Hello hungry peoples,
It's Easter time and in our house that means it is my daughter's birthday. Kids these days not only get a party every year, they pretty much claim the whole weekend. I guess the next step is to have a whole birthday week. I am kinda into this concept but only for my birthday. Sounds like super hassles to do it for everyone else.
We have finally moved beyond the obligatory pink Peppa pig and Tinkerbell themed parties. This year the chosen theme was Star Wars, which is actually pretty cool. I couldn't resist dressing my toddler up as a mini Darth Vadar. It was a totally practical purchase as he can now wear the costume as the most awesome pyjamas ever. Lucky it is getting cold.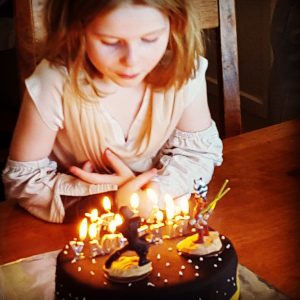 In regards to food we are super lazy. Our tradition is to get turkish which is always open on Easter. Sultan's Turkish Pide in Gungahlin is fabulous. We have been going there for about 10 years now (including 6 for my daughter's birthday). Their bread and home made hummus is delicious, their zucchini balls (kabak) divine, the borek totally sinful. Of course the pastry filled with cheese is sinful, duh! All of the pides and kebabs are also good and one of our go-tos when we want cheap take-out. I am also partial to the Turkish meats, particularly the lamb cutlets. They sure do know how to marinade and barbecue. I have tried googling for a recipe but so far the internet has failed me. If you find a good one send it my way. On a related note why are lamb cutlets so goddamn expensive? I always baulk and end up buying chops which are nowhere near as good.
My laziness continues with the birthday cake. My lovely mother-in-law volunteered to make the first birthday cake when my daughter turned one. This is an agreement that I have never EVER let her escape from. The mother guilt does impel me to make some kind of contribution to the festivities. This year I decided some yoda cupcakes would fit the bill. Google this, there are some disturbing but amusing variations. Again the internet has failed me so I came up with my own concept. Mint leaves kinda look like yoda ears. Green icing…easy! My daughter and I decided we needed some eyes for yoda. The only candy eyes we found also came with delightful kissy mouths, moustaches and bow ties. Waste not, yadda yadda. Plus surely to get a yoda there must be some girl and boy yodas out there to begin with. So there we have it: Yoda's Mum and Dad cupcakes. Enjoy!