Hello hungry peoples,
After torturing you last week with my croissant recipe I thought I would post something a bit easier this week. Everyone needs to have a good bolognaise recipe. It doesn't have to be the fanciest, prettiest meal, it has to get the job done. The ol' spag bol is a hero for parents everywhere. There has yet to be a child born that will reject it. I have a few variations (basically spag bol on steroids) but this is my go to basic bolognaise. The great thing with bolognaise is that it is a great base for a variety of other dishes too.
Spaghetti Bolognaise
Prep time: 20 minutes
Cook time: 30 minutes
Total time: 50 minutes
Yield: 4 serves
Calories per serving: 423
Ingredients
500g pork/veal mince
700g passata
2 bacon rashers
2 celery sticks
2 carrots
2 garlic cloves
1 tbsp oregano
1 bayleaf
Optional wine, anchovies, parsley
Cooking Directions
Dice up the garlic, onions and bacon. Fry in a mix of olive oil and butter until the onions go semi-translucent and the bacon is starting to crisp up. The butter gives flavour, while the olive oil prevents the butter burning. I use this all the time when I am frying things. If you like anchovies this is a good time to add a couple. They will add a delicious saltiness. I promise it will not make it fishy.
The type of bacon you use will greatly effect the flavour. I like a smoky taste so tend to get the smokiest bacon I can find. The scottish butcher "Market Meats" at the Belconnen markets makes the most amazing smoky bacon. We will happily buy a kilo every time we go and it can be stored in the freezer. I also like to use English style bacon because it has a good half-half ratio of fat to meat. You can get this at Aldi and it is delicious. I try to get free range pig when I can. I grew up on farms and while pigs are pretty clean animals it gets gross fast when they are penned in too much.

Nom nom

Dice the celery and the carrots and add to the pot and fry until you get some caramelisation on the vegetables (brown those suckers). This is called a soffrito and it is the base of a plethora of italian dishes. If you want to add a bit of wine, this is where you use it to deglaze the pot and cook off some of the alcohol. Deglaze is the fancy term for cooking some wine and using it to get the juicy brown bits of the bottom of the pan. In regards to wine I tend to use whatever I have opened at the time. Maybe not dessert wine. Sweet bolognaise would be weird.
Next – the meat. A pork/veal mince mix (which you can get at the supermarket) produces the best results but you can substitute with plain ol' beef or pork mince. Add this to the vegetables in a pot with the passata. So what is the deal with passata? Passata is an italian tomato sauce where the skin and seeds have been separated from the flesh. I think this makes the tomatoes less acidic and it produces a smooth tomato base that you can use in everything, including pizza bases. They dehydrate this sauce to make tomato paste. If you don't have passata, tinned tomatoes are a totally appropriate substitute. Season with salt and pepper and add 2 tbsps of oregano. Some people also add thyme but my german neighbour from my childhood insisted that the italians only use oregano in bolognaise and it stuck with me. A bay leaf is also a very good idea.
Leave on a low-medium heat. The longer you cook it, the more the flavours will develop but it will be cooked and ready for eating after about 30 mins. Putting it on a low temperature and cooking for a couple hours would be ideal. 2 to 3 hour cooking will produce a heavenly bolognaise. Make sure you stir it regularly and don't let it dry out. If it is drying out you can always use a bit of beef stock to keep the liquids up and it will also add to the flavour profile. A handful of fresh parsley is also a nice way to finish towards the end for a bit of extra flavour if you have some. Apparently it brings out the "meatiness" of the bolognaise.
Spaghetti is used traditionally with bolognaise but gnocchi and paperdelle pasta are also delicious. I think a lot of cheese really tops it off. This is traditionally parmesan but really any cheese will do. If you have a leftover heel of parmesan throw the whole thing into the pot. This is an old italian trick for making amazing soups and stews. This bolognaise is also good base for lasagne, pasticcio and cottage pie. It will definitely taste better if you use fresh pasta or make your own but super hassles! I am about to say something controversial – if you use dried pasta don't go for al dente ("still a bit tough"). I think the whole al dente thing is based on using fresh pasta, which is much softer. I always find dry pasta is too tough unless you cook it a bit further. There you go, internet proceed to implode!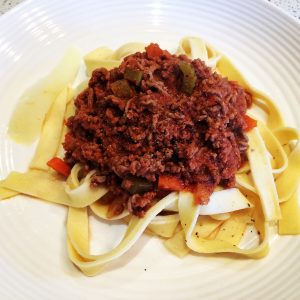 p.s. I have found some really interesting versions of souped up bolognaise. People do all kinds of crazy things like using sundried tomatoes, pancetta and worstershire sauce to make a richer, more flavourful bolognaise. I even found a variation where they use pork ribs. I am totally doing this. Will report back on the results.