Hello hungry peoples,
So a weekend food adventure involved going to the Botanic Garden's Delicious After Dark for a fabulous Friday night meal. Ending the week going out to a nice restaurant gives me a special kind of glow. The garden's were also feeling this, lit up like some kind of fairy wonderland.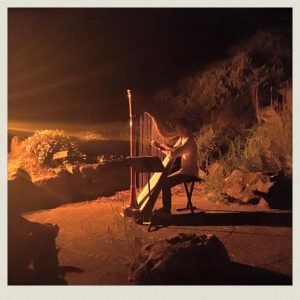 First there were shenanigans. Our group had all booked separately and despite being told it was a stand up meal there were tables and set seating. This lead to awkwardness and the staff were accommodating but the compromise was that we had the best seat in the house, right next to the toilets. A whiff of the loos really does not add to the magic of the night. Despite our ill favoured spot, the view was beautiful and there was a family of kangaroos (babies included) feasting next door on the lawn which was amazeballs.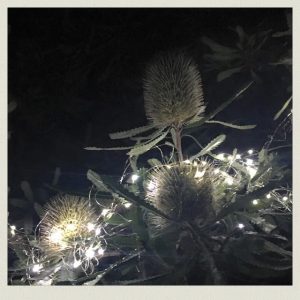 The menu looked pretty impressive, oysters to start and number of courses afterwards. The oysters were really really good. Up there with the Coffin Bay Oysters I had late last year at the most amazing oyster festival ever! Sadly we only got one each, much to the ire of some of the people at the table. They did do another round later but I got the feeling this was to get rid of any extras rather than feeding us up.  This was followed by some zucchini puffs and prawn rolls. Wait I should edit that, a zucchini puff and a prawn roll. Totally tasty but very small and singular! At this point I am thinking "oh ok the starters are canapés and then we will move onto the main event" but no the theme continued into the night. This could have been forgiveable but it extended to DESSERT people!!!!  Mini chocolate tarts are not ok! On principle I am against them. You can never get the proportion of filling to pastry right and why make a mini dessert when you can make a regular sized one. There also seemed to be a lot of meat mush in the mix (some people call it a terrine) but I am not a fan.
All in all the food was pretty good but a meal of canapés from start to finish leaves you with a gnawing pit in your stomach. I do think if you are going with this concept you can't be quite so stingy with the servings, for example letting people have as many as they want. We were literally begging for more food. The other super weird thing was that throughout the whole meal there was a complete absence of cutlery. This was just awkward.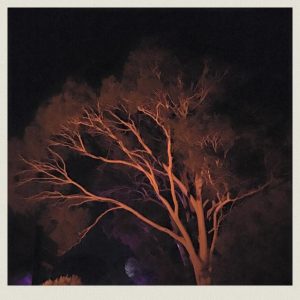 The best part of the night was afterwards when we got to walk through the garden which was lit up with oodles of fairy lights. Some bits felt a bit phoned in, "oh a path with a couple lanterns on it" but overall it was absolutely beautiful. The incorporation of musicians amongst the forest playing live music was magical. There was also an aboriginal camp site section which had a lady telling stories all night. I am in awe of her non-stop talking ability, although my daughter could give her a run for her money.
Overall it was amazing but make sure you pack some snacks.
p.s. Thanks for the photos Bec.