Hello hungry peoples,
Who likes fried chicken……everyone! E-ver-y-one!
Okay so maybe your vegetarian, or vegan, or have an unhealthy obsession with chickens (maybe you love them too much?). You should deep fry some legumes in this batter because it is amazing.
So I'm kinda lying about the whole deep fried thing. The deal with real southern fried chicken is that it is shallow fried and commonly finished off in the oven to avoid the whole death by salmonella thing. My recipe for southern fried chicken is a variation on one sourced from the real deal…this lady, the Pioneer Woman.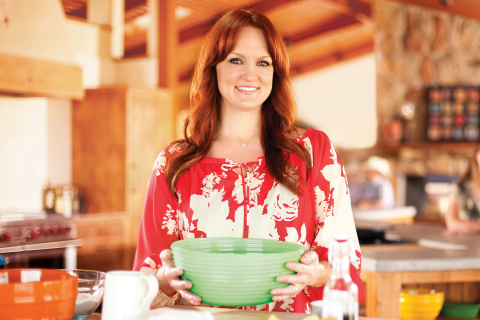 This lady lives on a ranch, a ranch in American people, with COWS and HORSES!
She also has the most adorable dimples and bright red hair. If she wasn't already married to a cowboy (who wears real chaps) I would try to run away with her. She's a bit like Paula Deen (but maybe with less racism?) in that she is not afraid of butter, sugar and deep frying everything on this beautiful planet of ours. I love exploring her food blog, especially since our food culture is quite different to America's. I didn't think it was possible to put too much cheese in something and I now know that I was wrong.
Her website contains detailed step by step instructions with lots of beautiful photos. My only camera is attached to my phone so don't expect that level of beauty here.
Southern Fried Chicken
Prep time: 20 minutes
Cook time: 40 minutes
Total time: 1 hour
Yield: 4 serves
Calories per serving: 533
Ingredients
500g chicken (thighs, breasts, wings, drumsticks – your choice)
2 1/2 cups plain flour
2 cups buttermilk (or milk plus lemon juice)
1.5 tbsp salt
1 tsp black pepper
1 tsp thyme
1 tsp paprika
1/2 tsp cayenne pepper

Cooking Directions
My main variation is I use chicken thighs rather than a variety of chicken pieces (about 500 g). The pieces are all about the same size so they cook evenly. I also do something that some would consider a sin – I don't cook with skin. Honestly I am not some kind of health freak. The batter gives plenty of flavour and thighs don't tend to go tough and dried out like chicken breasts can. They also have a lot more flavour compared to the breast meat. The lack of skin also means you don't get that dead inside feeling I commonly experience when I eat at a certain deep fried chicken chain. Don't believe me? Fine, cook with skin if you must.
Soak the chicken in buttermilk for a few hours. OK, so I rarely have buttermilk in my fridge but you can add a tablespoon of lemon juice per cup of milk for similar effect. The soaking is important. It tenderises the meat as well as making it juicy. If you can leave it overnight do!
Preheat the oven 180 degrees C.
Next is the seasoning. For 2.5 cups of plain flour add 1.5 tbsp salt, 1 tsp black pepper, 1 tsp thyme, 1 tsp paprika and 1/2 tsp cayenne pepper. You can also add a bit of the buttermilk as it makes the batter clump together a bit which makes it….er….more clumpy. Clumpy is good for frying. That's it!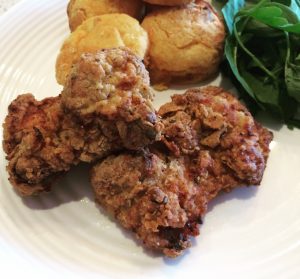 Have I forgotten anything?….Biscuits! You have to have biscuits….or corn……or cornbread. It is all good really. I'll get around to sharing my cornbread and biscuits recipe soon I promise. One of my go-to recipes is a sweet potato biscuit that is to die for.
p.s. I hear the Koreans are also doing amazing things with fried chicken. Definitely on my list of things to get in my belly. In fact I am going to give it a go tonight. Apparently vodka is one of the secret ingredients. Who would have guessed?