Hello hungry peoples,
The school holidays are finally over. I don't know about you but I am tiiiiiiired. As much as it is lovely to have the kids around more, it is also exhausting. I am always amazed by kids' abilities to trash an entire house. You think they can't do it within an hour….you would be wrong! I do try to do at least one fun thing with the kids, even when I don't take any time off work. These holidays we had a movie outing with my Mother's group to see Zootopia. The movie was really cute and funny, although my fancy recliner chair seemed to be broken. I appreciate a kids movie that is also good for the poor parents stuck watching it. I am NEVER EVER going to see a Thomas the Tank Engine movie again. Longest hour and a half of my life. Also has anyone noticed the fascist propaganda? BE a really USEFUL engine! It is also a bit reminiscent of 1984. So disturbing.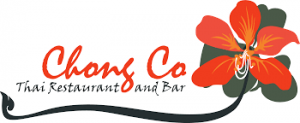 The movie finished at dinnertime so we found ourselves at Belconnen mall with a literal horde of hungry children. Malls tend to be pretty limited food wise although thank god they do seem to be expanding beyond the usual food court fair. I was pleasantly surprised to discover that there is a Thai restaurant just outside the mall near Target. Chong Co Thai, despite its mall location, is a beautiful and elegant restaurant. It almost looked too nice to take all the kiddies there but it has a large fit out and was still pretty empty at this early-ish hour. Have I told you how much I love Thai food? I really REALLY love Thai food. I love that everything tastes light and fresh, even when it is deep fried. I love the combination of fresh herbs with chilli, palm sugar and fish sauce. I put off learning how to cook Thai food for ages because I found these ingredients so unfamiliar and a bit intimidating. Honestly this food isn't a huge commitment. Once you have some fish sauce, palm sugar and chilli you can make so many dishes. Just do it, dammit! Anyway, back to the restaurant.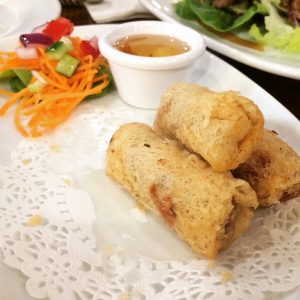 The menu range is pretty standard fare. You have your curries, salads and stir fries. To start we ordered some spring rolls, curry puffs and crab rolls. The spring rolls and curry puffs are vegetarian. These were beautifully crispy outside with a lovely filling and the obligatory sweet chilli dipping sauce. I insisted on getting the crab rolls, because they sounded so interesting. They comprise crab meat and shrimp mixed with taro and water chestnuts, wrapped in crispy net rolls. These didn't come to the table for ages but when they did come they were piping hot and delicious.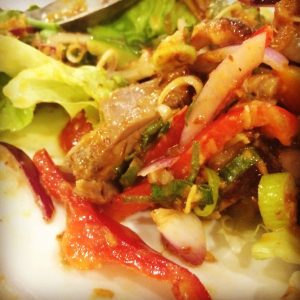 Next to mains. Since we had so many children with us we picked a non-spicy beef and cashew. This was nice enough, but not exciting enough for my tastebuds, although it did have a very mild chilli jam. I selected the duck salad. I chose very well. The dishes comprises sliced roasted duck with shredded coconut, mild chilli jam, herbs, cucumber and cherry tomatoes. It was beautiful and light, with just enough spice and the duck was perfectly cooked. Just plain delicious.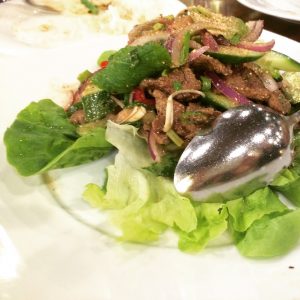 Since you can't have a Thai feast without Thai beef salad, this was another really solid choice. It's not exactly a complicated dish but they did it well so props for that. Lastly we got a chicken curry because….well….you just have to. This was pretty good but I have to confess I am a bit bored of green curries. Overall the service was quick and efficient. They didn't even get cranky at our kids making a mess, which of course they eventually did. It was a overall a great meal. I can't believe I can get this when I go to the mall. I am very happy indeed!
p.s. Warning to parents out there, this place is located next to Cold Rock. You will be forced to get ice-cream afterwards. My daughter's argument was "but we have to because it is there". Isn't that what people say about climbing mountains. Can't argue with that.