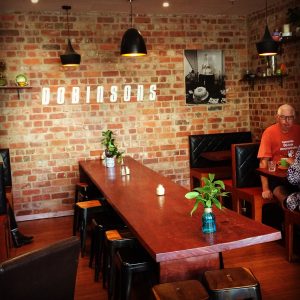 Hello hungry peoples,
Today we are visiting a Canberra bakery institution; Dobinson's Bakery Cafe. I didn't even mean to go to this place, I just dropped in for coffee and then couldn't tear myself away. The first Dobinson's opened in a little northern NSW town called Kyogle. We have been lucky to have them in Civic since 1994. There is actually two Dobinson's in Civic, a little bakery outlet near the supermarkets and a cafe on Bunda Street, which has a more expansive menu.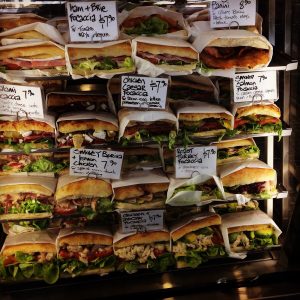 Let's start with the savoury before we move onto their delectable desserts. Dobinson's pie's and sausage rolls are amazing. Beautiful crispy pastry shells with a delicious meaty filling. No mystery meat or gristle in sight. I am particularly fond of the sausage rolls. This is one of my go to cheap take-away meals as I can usually feed the whole family for under $10 and they reheat really well. They also have some really lovely quiches. Both venues also offer an extensive and interesting sandwich menu. If you go to the cafe they also offer a typical breakfast menu. Nothing too crazy but they do the classics well and are very generous with their serving sizes.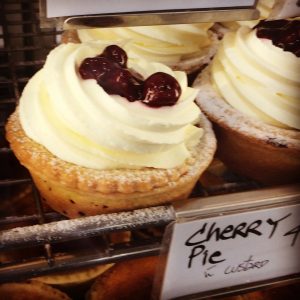 Moving onto dessert`. This is one of the things this bakery is famous for. They specialise in tarts but also have a range of sweet pies and cheesecakes. They line all of their pastry shells with chocolate, which is a great trick for keeping the base crispy despite the ooeey gooey goodness inside. They have also recently expanded into the cinnamon roll and choux pastry realm. More on this shortly.
On my recent visit to the cafe I brought with me a familial horde. I had to go to the dentist in the morning so it seemed fitting that we visited a bakery for lunch. What??? Don't look at me like that. The dentist said my teeth were great so they can take a sugar hit. Plus I needed the emotional comfort. Dentist are scary. We were there pretty early so they were still serving breakfast (which clocks off at 11:30 am).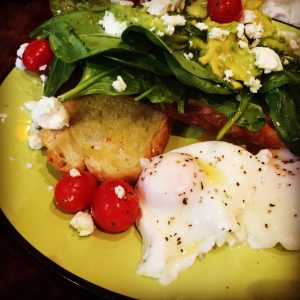 I had to get the Persian eggs as I am obsessed with all things fetta/eggs/avocado related. It was lovely. Their sour dough bread was delicious and they even put butter on it. What is with this no butter thing??? It's toast, it NEEDS it. This is a trend I do not like. The eggs were also perfectly poached, which is always a good thing. Overall very nice but you must be warned, the amount of food on my plate could have happily fed three people. Definitely a bargain at $14 but maybe split with a friend.
My Mum is a huge bacon and egg roll fan so she ordered the Deluxe version. This included avocado, tomato salsa, cheddar, two eggs and two rashes of bacon. She was a very happy woman.
Aside: According to my Mum the best bacon and egg roll in Canberra is the little Greek cafe at Lyneham shops called Cafe Charisma. This seems like something people would get riled up about. I am just putting it out there, feel free to debate!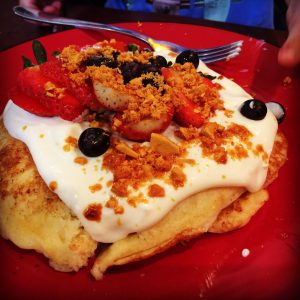 My son and niece split the "Pancake Delight".  This comprised two very large and fluffy pancakes, topped with strawberries and blueberries and a creamy lemon yoghurt sauce, with ice cream on the side. As you can see from the picture it looked gorgeous! Sadly this lasted for about 5 seconds once the kids got their hands on it. I love the idea of the yoghurt sauce. The pancakes were already quite sweet and cakey and the yoghurt sauce added creaminess without too much extra sweetness. Certainly something I would like to try at home.

Since we had already eaten a ridiculous amount of food for little money, I got dessert take-away. The choux pastry desserts are quite new and I felt it was my duty to give them a go. They have added a nutella profiterole to their menu which is just plain ridiculous. It is the size of a large pie. No person should eat this by themselves. I split this with my two kids and we still have half of it sitting in the fridge. As you can see from the photo it is a thing of beauty. The pastry was really fresh, none of that stale flavour you sometimes get with choux, and the custard inside was creamy and light and just ooooohhhh! Yummy but overwhelming. Not for the faint hearted. We also got the coffee salted caramel eclair. Again the pastry and custard were great but I wasn't a huge fan on the coffee flavour. It kinda tasted like coffee essence rather than espresso. If you want some choux I think the proffiterole is your best bet.
To sum up, I just love Dobinson's. Their food is consistently excellent and still a bargain after all of these years. You should go there. Eat all the things!