Hello hungry peoples,
There is something beautiful and primal about preparing and eating food together as a group. Back when our ancestors were still roaming the savanna, the woman would have got together with the literal fruits of their day and prepare a meal for the entire tribe. Sure, you could fly to Africa to have the fake touristy version of this experience or, more economically and much less hassles, you can enjoy this in your own back yard by joining Canberra's Cooking Circles.
Cooking Circles is the brain child of Heidi Zajac, a community development worker. She was inspired by her trips to East Timor where groups of women would gather to cook and learn from each other. The premise of the Canberra Cooking Circles is every month a woman will host the event in her home and teach people how to make a dish. These dishes are usually something special, representing the cultural and ancestral heritage of the host. Everything is prepared as a group and then the food is shared, with a few glasses of well earned wine. Primitive and civilized all at once. My favourite kind of dichotomy!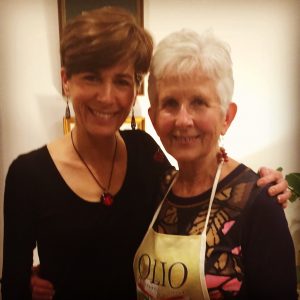 I recently attended a Cooking Circle's event hosted by the lovely Michele and her mother Marika. I arrived at their home on a cold and rainy Saturday night, perfect cooking and wine drinking weather. The theme of the night was making Russian Pelmeni. These are a kind of filled dumpling. You find different versions of these all across Europe, from the Polish Perogi to the German Klöpse. In fact these dumplings were made by Michele's Siberian/Estonian grandmother. The dumplings were a convenient little parcel that they could freeze in the snow, take on sleigh journeys and boil on the fire. Coincidentally my Russian ancestors escaped Russia using a dog drawn sleigh. I wonder if they ate Pelmeni? I feel they must have.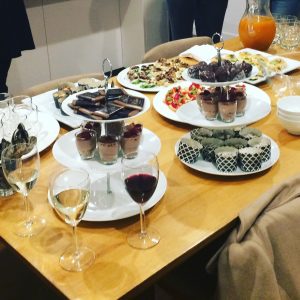 Michele also has a passion for creating party food, which was wonderful for all of us. She surprised us with an amazing spread of canapes as an entree to our Pelmeni feast. The sheer amount and diversity of the food on offer was astounding but Michele assured us that there are a lot of shortcuts if we wanted to try to recreate it. Firstly there was a lovely warming spiced carrot soup in cute little glasses. Cold canape's included smoked salmon on scones and bacon and cheese muffins. There was also a date topping on slices of cucumber or on some lovely little blinis. Smoked oyster rolled sandwiches looked like little spiral shells. Once everyone had tasted everything, and filled their wine classes, we moved onto the main event.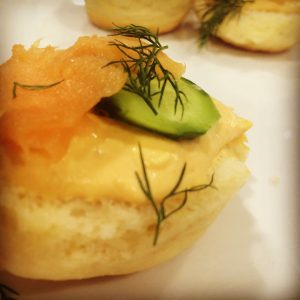 Marika is the Pelmeni expert and handled the dough with an air of calm competency. She was also very patient with us less skilled people. The dough was rolled into long sausages, diced up like gnocchi and then rolled again to make little disks. We then used a mince meat filling and folded the dough, with a little twist to get the final shape. Marika made this bit look so easy. I found it less so. The aim is to make bite sized dumplings as the filling forms stock that bursts out when you bite into them. The dumplings were then boiled and served with mustard and lashings of sour cream. The dumpling cases were very refined, thin and yielding. The mince meat filling, while simple, was full of flavour and very heartening. Just plain delicious! If you would like to have a go at them yourself I have included the recipe below.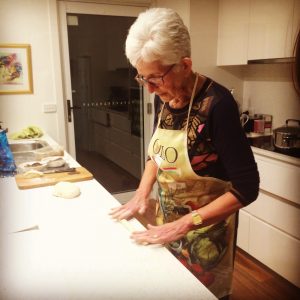 Lastly Michele treated us to a dessert smorgasbord. A raspberry chocolate mousse had a hint of liquor as well as a lovely crumbled strawberry champagne Tim Tam surprise in the bottom. The rum balls were dense fudgey chocolaty nuggets. There were chocolate hazelnuts brownies in little cupcake holders. Lastly we were treated to a decadent home-made Pina Colada ice cream. This has to be one of the richest ice creams I have ever had and it was amazing. Michele whips cream and mixes it with condensed milk which gets put straight into the freezer. No ice cream machine required! Even though there is no churning, the ice cream ends up with no discernible ice-crystals. Thankfully Michele was generous with sharing the recipe.
Overall it was an amazing night. All of the women were lovely and the general atmosphere was warm and convivial. I also learnt something and got a couple of great recipes. We cooked, we ate, we drank, we laughed. I can't wait for the next one.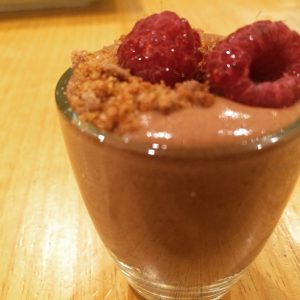 Russian Pelmeni
Prep time: 30 minutes
Cook time: 10 minutes
Total time: 40 minutes
Yield: 4 serves
Calories per serving: 768
Ingredients
Dough
3 cups plain flour
1 egg
1 cup water
1/2 tsp salt
Filling
500g beef mince
1 finely diced onion
1/4 cup water
1 tsp pepper
1/2 tsp salt

Cooking Directions
First make the dough. Crack your egg into a bowl, add your 1 cup of water and mix. Add flour and salt and knead the dough until it comes together.
Next we make the filling. Mix your 500 g of beef mince, 1 1/2 tsp of salt, some pepper, the diced onion and 1/4 cup of water. The mixture should be nice and moist.
Cut a piece from the dough. Roll it out with your hands until it looks like a sausage, about 2 cm in diameter. Cut the sausage into 1 cm sections and flatten. Roll into a disc. The dough should be even and thin.
Place a teaspoon of filling on each disc. Fold disc in half, pinch the edges closed. Pull the two ends towards each other and press together. The dumplings can be frozen on a tray at this stage.
Cook the dumplings in boiling water with salt and beef stock powder. Don't put too many in the pot. You don't want them to clump together. Cook for 3-4 minutes. They will start floating when they are cooked.
Remove with a slotted spoon. Put in a bowl with dabs of hot English mustard and lots of sour cream.

Russian pelmeni

Difficulty: Medium. The make-up is simple but some technique is required with the dough.