Hello hungry peoples,
Today we are visiting a new HomeTaste chef, Musi. Musi is a budding food entrepreneur and a chef in demand. She loves cooking for family and friends and has big plans for sharing her food. She first learned to cook from her mother and she has taken many of these recipes and made them her own. Cooking in her house is a family affair. Her lovely husband acts as her sous chef, prepping ingredients, and they hold regular feasts for their friends. These are not small intimate meals, these are feasts for up to 40 people. Even her co-workers are huge fans, encouraging her to set up a lunch stall so they can feast on her food.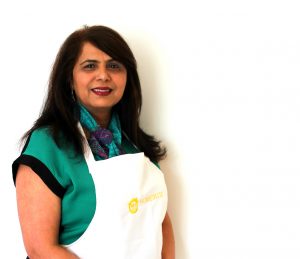 Musi has developed her cuisine over her lifetime and her passion for food was sparked when she started a family.  She loves taking traditional Pakistani elements and being creative. As she says herself "I take the traditional meals and I am always trying to make them better". She even makes her own spices and grinds her own chilli powder in her quest for perfection.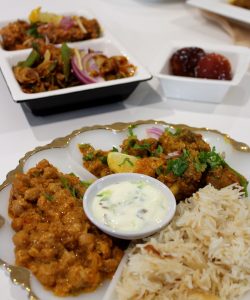 Pakistani cuisine is similar in many ways to North Indian cuisine but also has influences from the Middle East and Central Asia. On the day I visited, Musi prepared some of her favourite dishes, including her all time favourite Chicken Kadhai. This is a popular North Indian and Pakistani recipe and"Kadhai" literally means cooking in a wok. A whole chicken is slow cooked with fresh herbs to develop complex and deep flavours. The recipe originally comes from a friend of Musi's husband but it also represents Musi well. The elements of the dish have clearly been respected and treated with care, creating a seriously refined dish. The chicken was slow cooked on the bone till tender and juicy, and the flavour of the accompanying gravy was just outstanding. A truly triumphant dish and a good sign of things to come!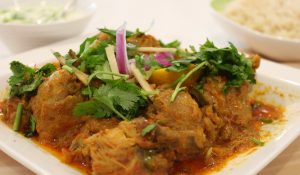 A traditional goat curry was equally delicious. The meat is slow cooked on the bone with red and green chillies and Musi's spice mix. The meat was meltingly tender and the gravy was full of spicy flavour. It is one of Musi's most requested dishes and I can see why.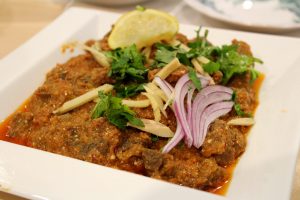 It should also be noted that while Musi has amazing meat recipes, she also makes really interesting and delicious vegetarian meals. One of her favourite ingredients is okra, an ingredient rarely seen in Australian cuisine. She fries this with potatoes and her homemade chilli flakes to create an amazing dish packed full of spicy flavour. This was one of my favourite meals of the day. It had a real kick to it but was so tasty I couldn't stop eating it. I have always heard terrible stories about the sliminess of okra but this was amazing. I also really enjoyed a  chickpea and lentil curry, which was a very heartening dish. Musi made a number of sides to go with these amazing dishes, with a lovely light raita to cool the fire in my mouth and crispy roti for soaking up all of the delicious gravy.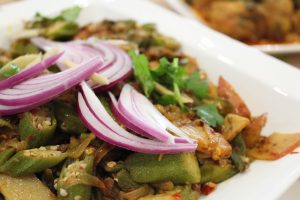 Lastly to finish we consumed Gulab Jamun, a traditional sweet popular in Pakistan. These are beautiful fried dumplings dressed with cardamom,coconut and a sugar syrup. I love how the cardamon reminds me of chai tea. They were also super sweet and decadent.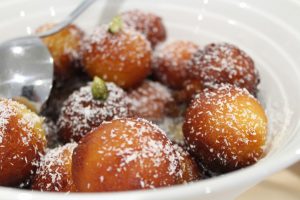 Musi ruled the kitchen with an air of calm competence, a confidence that is justified and really shows through with her dishes. All of the elements of the dishes were perfection, working together to produce complex dishes with lots of flavour. I will definitely be ordering some of her food. Her family and friends are very lucky indeed!
Your can order Musi's food from HomeTaste here.  

The author dined by the invitation of HomeTaste. All opinions stated are her own.