Hello hungry peoples,
Queso Fundido roughly translates to molten cheese. I like cheese. Like I REALLY like cheese. This is my take on a classic Mexican street food. Probably not legit but I haven't actually been to Mexico so it is not entirely my fault. Until I know better this will do fine, thank you very much. I admit it is pretty much like nachos but it has much much much more cheese. The topping is a riff on Pico De Gallo, which is a very common tomato salsa. It probably shouldn't have avocado in it but I like avocado. Don't tell me what to do, I do what I want!
Queso Fundido
Prep time: 10 minutes
Cook time: 20 minutes
Total time: 30 minutes
Yield: 4 serves
Calories per serving: 915
Ingredients
500g chipolata sausages
425g (1 can) black beans
175g (1 bag) plain corn chips
1 bag grated cheese
1 avocado
1 punnet cherry tomatoes
1 red onion
1 lime
Pinch chilli
Pinch cayenne pepper
1 tbsp paprika
1 bunch coriander
Optional: jalapenos, sour cream
Cooking Directions
Preheat your oven to 200 ° C.
Get a skillet or a casserole dish. A skillet gets hotter and will produce a better result, plus you can fry ingredients in it so you only dirty one pot. Win!
Remove the meat from the casings of the chipotle sausages. Break the meat up as you fry it in the skillet with a little oil on medium heat until cooked. A lot of fat will come out of the sausage meat as it cooks so don't overdo the oil.
While cooking add your pinch of cayenne pepper, your pinch of chilli flakes and the tbsp paprika and give everything a good stir.
Remove the meat from the skillet and drain off the oil. I like to let the meat drain on some paper towel as well because it is super oily.
Now you are ready for construction. Place a generous layer of cheese on the base of your skillet. Add a layer of meat and the black beans. Lastly top with a final layer of cheese. It then goes into the oven until the cheese is golden and bubbly. It should take about 5-10 minutes.
While it is cooking we make the toppings. Finely dice one red onion.
Chop up the flesh from a avocado. Add the juice of one lime.
Dice up your punnet of tomatoes. I like to use cherry tomatoes as I think they have more flavour than the giants you get at the supermarket.
Chop up your coriander.
Once your cheese and meat base is ready, layer the cold ingredients on top, putting the coriander on last. You can add a little pepper but I wouldn't add salt as the sausages are already super salty. You can also add some jalapenos if you like things spicy. I have little kids so sadly this is a bit of a no go. To make it even more decadent a few spoonfuls of sour cream on top are divine.
Now the fun stuff. Please put some kind of trivet on your table. Don't set your table on fire! Put the skillet in the middle of the table. Now everyone can go to town. Have your corn chips ready to go and dig in. That's it, your done!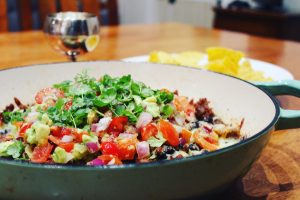 Difficulty: Easy peasy