Hello hungry peoples,
Today we are going to enjoy some Japanese street food; Okonomiyaki. This is a dish that is known for its versatility, with variation across different cities and provinces.  In fact the name pretty much means "what you want grilled". Essentially it is a savoury pancake, or sometimes an omelette, with stuff on it. In Japan there are even restaurants where you can build you own. The pancake itself is a pretty plain affair, it is really about the toppings and sauces that make it special. Okonomi is a kind of sweet Japanese barbecue sauce that is super delicious. I have probably already raved previously about the loveliness of the other sauce, Kewpie mayonnaise. That msg sure is tasty! Both of these can be purchased in the Asian section of your supermarket.
My interpretation of this dish is pretty westernised.  It is very common for the pancake to be made using a dashi stock. This lends a kind of fishiness to the flavour which my family are not fans of. I have abandoned it in favour of chicken stock. I also like to add crispy noodles and prosciutto on top, as the salty crunch in amazing. Wombok is one of my all time favourite vegetables. It is so versatile, provides amazing crispy crunch and will last for weeks in your fridge. Lets get into it!
Okonomiyaki
10 minutes
Calories per serving: 453
Ingredients
2/3 cup 

plain flour

1/2 

chicken stock

1 

grated zuchini

1 

grated carrot

3 

eggs

100g bag 

Chang's Crunchy Noodles

4 slices 

prosciutto

1/4 

wombok
To serve: Keypie mayonnaise, Okonomi sauce
Cooking Directions
Whisk the 2/3 cup plain flour and 3 eggs together with 1/2 cup chicken stock. You can use dashi stock for a more authentic fishy flavour.
Add grated carrot, zuchine and 3 shallots chopped and give everything a good mix.
Heat a hotplate or frypan on a medium heat with a little butter and olive oil.
Make 4 pancakes and cook until golden on both sides.
Fry the prosciutto until crispy while the pancakes cook. I cook mine in my flat sandwich press as it is really quick and creates beautifully cooked bacon on both sides. Chop the rashers up.
Coarsely chop up the 1/4 wombok.
Once the pancakes are cooked layer the wombok, fried noodles and bacon on top. Drizzle with Kewpie mayonnaise and Okonomi sauce and dig in.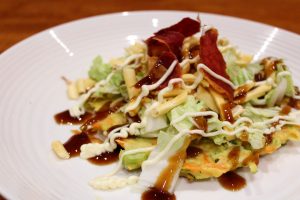 Difficulty: Easy-Medium