Hello hungry peoples,
Hubby recently had his birthday and I find him impossible to buy for. Instead of getting him more stuff, most of which he probably would not like, I decided to get him something more precious, a couple days off. I did suggest we go to a resort around Bundanoon, but it turned out to be a yoga/health retreat. Strangely hubby was not keen on this. Next thing I know he is looking at flights to Belgium or Texas to see Formula One and of course, if we are going all that way we should stay a couple of weeks. I looked on in stunned silence. There was no in between people. We went from a weekend away to a couple weeks in Europe. Once hubby got over his initial excitement he decided that maybe this was a bit much, much to my relief. In the end the compromise was that we were going to drive down to the coast and stay in a lovely hotel called "Bannisters" sans children. Bannisters is located in Mollymook about half an hour north of Batemans Bay. One of its main selling points is that this is the hotel owned by the famous chef, Rick Stein.  It was such a sacrifice on my part to visit this place.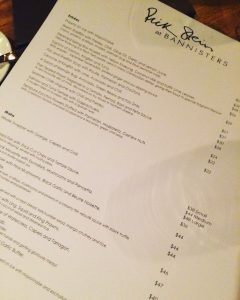 Rick Stein is a celebrity English chef who owns numerous restaurants, cook books and TV shows. He spends part of his year in Australia, specifically Mollymook, where he has two hotels and three restaurants. He is the Head Chef at the fancy pants restaurant "Rick Stein at Bannisters" but I suspect he also influences the Bannister's "Roof Top Bar and Grill" and the "Poolside Bar".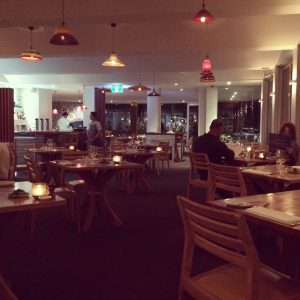 Let's start with the hotel. There are two in Mollymook. "Bannisters Pavillion", which is slightly inland among a lot of beach side housing, and then there is "Bannisters by the Sea". Bannisters by the Sea is the more expensive option, located on Mollymook Point with sea views. It is also where the Rock Stein Restaurant is situated, as well as the Poolside Bar. Since it was low season we splurged on staying at Bannisters by the Sea. The hotel has a beautiful setting and it is obvious that care has been taken with the design and fit-out. I think "eclectic" is probably the most appropriate word for the interior design. There were all kinds of rattan hats converted into lights, old bottles turned into lights, random stuff turned into lights. You get the picture. The location really is something. The pool area looks out onto the ocean and we even saw whales while having coffee on the deck. That was pretty magical. Is was also magical that I paid $8 for that coffee. A glass of wine was $9 so if you want value for money just drink wine. They also offer tapas and pizzas. Hubby had a pizza and and assessed it as being perfectly good.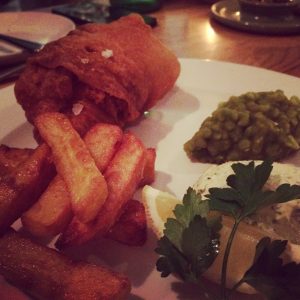 Moving onto the main restaurant, the first thing you notice is that even for fine dining it is expensive. All of the mains were over $40. Rick is known for his seafood, in fact only one dish didn't contain seafood. His French training is also evident, with a lot of french butter sauces and the like. He has filmed a few cooking shows in India and Asia, and some of the dishes were a nod to these countries. Hubby stuck with fish and chips, which seemed a safe choice. First off, half the fish fillet was missing, with the fish forming a huge puffed up square. Is this a thing now? Where the rest of it was remains a mystery. It was served with chips fried in dripping and mushy peas. Frying chips in dripping sounds super decadent, and it certainly lent an unusual texture and flavour but they were also not very crisp. A bit weird really. The mushy peas tasted like they were made from re-hydrated peas that hadn't been cooked all of the way through. They still had tough bits and were not at all mushy. The whole thing was a strange dish.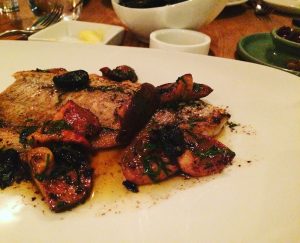 I ordered the snapper fillet with pine mushrooms and black garlic. I really wanted to try the black garlic, especially after seeing an entire Bob's Burger's episode about it. The snapper was perfectly cooked, with a butter sauce, but the black garlic was served as whole cloves and really overwhelmed the delicate fish. The pine mushrooms were nice enough but didn't really add anything. It was all fine but hardly justified the price tag.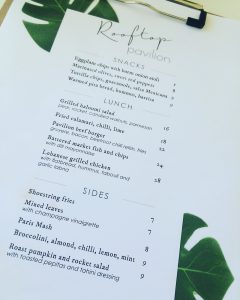 For dessert hubby went with a trio of ice-creams and I had a goats cheese cheesecake with Apple Pudding. I asked hubby if it was the best ice-cream he had ever had, to which he replied "no". The goats cheese cheesecake had a tartness to it which is kinda expected. It was served with thin toffee shards and an apple pudding, which was more like pureed apple. It reminded me of the apple squeezies I give my kids. I could see that the dish was a technical feat but the overall effect was underwhelming.
It is not all doom and gloom though. We had lunch at the Rooftop Bar and Grill twice and it was fabulous. It is situated on top of Bannisters Pavilion, opening up onto a deck with a pool. Everything cost about half as much as at the other restaurant and the fish and chips were better, although again mysteriously half the fish was missing. They also had some really interesting dishes. The eggplant chips with burnt onion aioli were a triumph. I don't think I have ever eaten a whole eggplant before in one sitting. The burgers were delicous and I had a perfectly dressed haloumi salad. The other thing that is important is that the staff at all locations were freakin amazing. They were super friendly and helpful.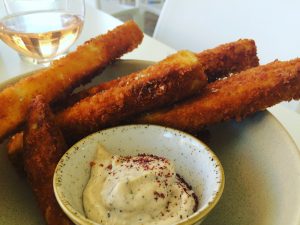 So let's sum up. We had a few days without the kids, our first holiday without them, and it was quiet and relaxing in beautiful surrounds with some very nice people. The main restaurant was disappointing. I don't like giving negative reviews and I have pondered this a lot. The main problem is that the food is just ok and I don't think you can get away with that at those prices. Much of the internet seems to agree with this. There is quite the hoohah about Rick not having a Michelin star and I can kinda see why. I expected more really. I did love the Pavillion Rooftop Bar and Grill.  so we did get to eat some very good food. Overall it was a win!