Hello hungry peoples,
I have been working on this recipe for awhile and it is definitely a labour of love. Apricot Kuchen was my Grandfather's favourite cake. The sheep station I grew up on was near the Barossa Valley. Sadly this was before Maggie Beer was famous so I haven't visited her restaurant and it is still on my list of places to go. Like most settlers in the region, my grandfather had German heritage and would randomly pepper his conversation with German phrases. We would periodically go on a pilgrimage to the Barossa where we would stock up on port for his nightly snifter and an Apricot Kuchen tea cake. I never understood the port obsession. It still tastes disgusting to me,
The Barossa is rightly famous for its amazing wines and is just a lovely place to visit, being green and lush to the point it is almost un-australian. Part of it's magic is due to the influence of Austrian and German immigrants. These people know their stuff when it comes to essentials such as wines, cheese, sausages….I could go on and on. It is essentially a verdant valley filled with good things to eat and drink. I loves it!
The cake itself is simply gorgeous. It has a crumbly biscuity pastry base, brandy soaked apricots topped with a custard, and lastly finished off with a pecan streusal. The fact that it has three components does make it a bit time consuming but trust me it is worth the effort. Get it in your belly!
Apricot Kuchen
Prep time: 2
0 minutes
Cook time: 40
 minutes
Total time:
1 hour
Yield: 8
 serves
Calories per serving: 422
Ingredients
Pastry
3/4 cups 

milk

1 tsp

yeast

1

egg

2 cups

plain flour

1/4 cup

castor sugar

1/2 tsp

salt

100g

butter
Custard
1/4 cup

plain flour

1/2 cup

sugar

1 1/2 cups

milk

2

eggs

1 tsp

vanilla paste

500g

fresh apricots

1/4 cup

brandy
Streusel
1 cup

plain flour

2/3 cup

brown sugar

1/3 cup

chopped pecans

1 tsp

cinnamon

1/4 tsp 

salt

50g

unsalted butter
Cooking Directions
First lets get you ready to go. Preheat your oven to 180 ° C.
Grease a large casserole/baking dish (about 15 by 30 cm).
For the base: warm the 3/4 cups milk in the microwave and add the tsp of yeast.
Mix the 2 cups of flour with the 1/4 cup sugar and  1/2 tsp of salt.
Add the milk and yeast mixture and knead until a stiff dough forms.
Grate the 100g of butter and add to the mixture.
Knead until the dough is silky and soft. Chill the dough for 20 minutes. This helps everything set.
After 20 minutes press it into the base of your casserole dish and let it rise slightly.
Next we work on the filling. Soak your apricots in brandy for quite awhile (the longer the better really).
For the custard filling combine the 1/4 cup of flour, 1/4 cup of sugar and a bit of milk to form a paste in a saucepan. This prevents lumps.
Add the remaining milk, 2 eggs and a tsp of vanilla paste. Give it a good whisk.
Put the pot on a medium heat. Whisk regularly until thickened. Take it off the heat and let it cool.
Combine the struesel ingredients: 1 cup plain flour, 2/3 cup brown sugar, 1/3 cup chopped pecans, 1 tsp cinnamon, 1/4 teaspoon salt and 50g unsalted butter.
Use your fingers to bring it together, making a crumbly mixture.
Arrange the soaked apricots as a single layer on top of the pastry.
Pour the custard mixture on top.
Sprinkle the crumble.
Bake the kuchen for 40 minutes, until the crust is deeply golden.
Cool completely before serving, although if you are like me this will not happen. Warm Kuchen is delicious.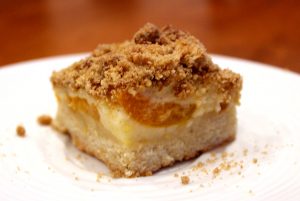 Difficulty: Medium