Hello hungry peoples,
Today we are wandering into the land of the cookie. Home baked cookies are an entirely different premise from the preservative ladden, yet still mysteriously stale, bought version. They are also super easy, especially if you have a good base recipe that you can mix up. One of my favourite flavours is peanut butter and chocolate chips, which is rarely seen commercially in Australia so well worth the effort of making it yourself.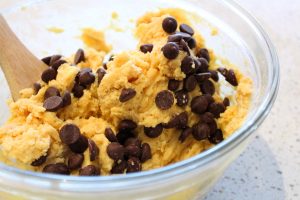 Have you had Kraft peanut butter? It is an Australian brand and my all time favourite. I used to steal it from the pantry when I was a kid and go bush to eat it with a spoon. I wasn't selfish though, I would let my dog lick the lid. What can I say??…….kids are gross. I prefer to use chunky peanut butter because peanut chunks people!! Do I need to explain? I seem to be using a lot of question marks and exclamation points. I'll try to move on.
Make sure you factor in about 1/2 an hour in the freezer for the dough. The cold dough is much easier to work with and the cookies will spread less during baking. It also enhances the colour, texture and flavour of the cookie. You can also just slice individual cookies off the logs which means fresh cookies whenever you want. The awesome thing is that it will keep for about 3 months once frozen in the freezer, so you can just chop some off when you have a cookie craving. Your welcome!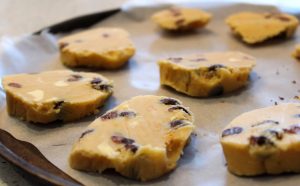 Peanut Butter Choc Chip Cookies
Prep time: 45 minutes
Cook time: 15 minutes
Total time: 60 minutes
Yield: 12
Calories per serving: 388
Ingredients:
250g butter
1 cup caster sugar
2 cups plain flour
1 egg
1 tsp baking powder
1 tsp vanilla paste
1/2 cup dark chocolate chips
1/4 cup peanut butter
Cooking Directions
The first thing you need to do is let you butter soften. Since we are in Australia and it is cold at the moment feel free to cheat. Since we will not be beating it to incorporate air a little time in the microwave will not do any great harm.
Mix the softened butter and the castor sugar together. Castor sugar is finer than regular sugar so it will dissolve and incorporate more rapidly. I don't really like large sugar crystals in my cookies.
Add the tsp of vanilla paste, 1 egg and the tsp of baking powder. The baking powder is not strictly necessary but I like a little puffiness to encase my chocolate chips.
Mix in the 1/4 cup of peanut butter.
Lastly pour the 1/2 cup of chocolate chips and the two cups of plain flour in and give it a good mix. Use your hands if you need to.
Once everything is mixed put it on some cling wrap and form the batter into a log. Wrap it and let it sit in the freezer for about 1/2 an hour.
Once you are ready to bake preheat the oven to 180°C.
Slice as many cookies as you want to eat off the log.
Bake them for about 15 minutes. That's it, you're done!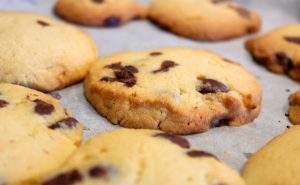 Difficulty: Easy peasy