Hello hungry peoples,
Today we are going to visit some very fine dining in Canberra; Monster Kitchen and Bar. I went there for a belated birthday girls night out with some of my mothers group com-padres.
Monster is located in the lobby of Hotel Hotel in New Acton. It is a weird location, making for a restaurant that seems to spill out, extending from a bar area, into a lounge area (with an amazing open fireplace) to a more restaurant type area. The interior design is very modern and eclectic, which each designated area having a very different feel. What can I say?….it is very pretty and shiny. Apparently many of the design elements come from local artists and designers, and much of it is one of a kind. It is also very large space but they don't seem to have any trouble getting people to occupy it. In fact if you want to go I recommend planning a few weeks in advance and making a booking.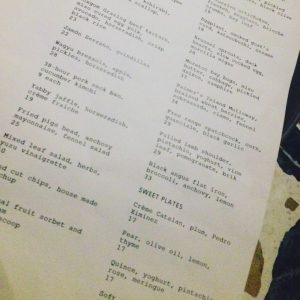 The food is very modern. There seems to be a lot of fusion and deconstruction, with all kinds of different food cultures mashed together. Monster may be a very appropriate name. I am not generally a fan of this kind of fiddly food but I was impressed with how refined and complex the dishes were. Certainly not the kind of stuff you can easily replicate at home. The menu is extensive, comprising small and large share plates. Hard to choose really but since we had a vegetarian diner, this helped to whittle it down a bit. Vegetarian food can be pretty limited to just chargrilled vegetables with goats cheese but Monster treated their vegetarian dishes with respect. They were anything but boring. There was a lot of goats cheese though 🙂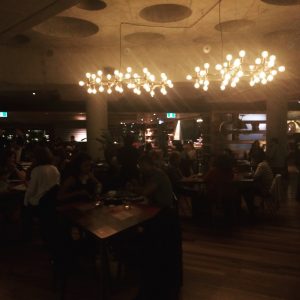 Firstly they have Jerusalem artichokes, something I have been meaning to try forever. These are nothing like the marinated stuff you get in a jar and they are really hard to buy. I know of desperate people growing them, trying to get their hands on some. The artichokes were served with Freekeh, which is replacing quinoa as the new fashionable grain, with a cheese and brioche bread crumb. I really enjoyed it. The flavours were very delicate and the artichoke was lovely and tender, although maybe not worth gardening for.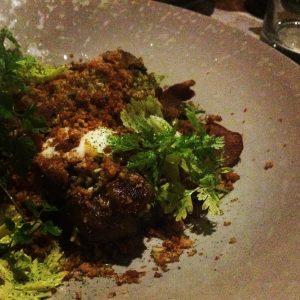 Monster also has Burrata on the menu. My general rule in life is if it is on the menu you must order it. I am obsessed and it is impossible to get in stores. Burrata is a mozarella ball prepared so that it is filled with a cream centre. You cut it open and it oozes everywhere. Let's just reflect on that for a minute. This was served with a lovely tomato salad and garlic sourdough. So many good flavours together and a combination that is always one of my favourites. The quality of the ingredients really shone through on this one.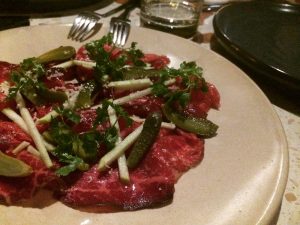 Moving on to the meat dishes we couldn't go past the wagyu breseola, especially with fiery Italian Gioia in our midst. I'm kinda jealous…..I wish I was Italian. This was served very simply, sliced finely with some adorable baby pickles on top. This one I could probably manage to make at home, although I have no idea where you would get wagyu breseola. The meat was amazing but there really wasn't much more to the dish.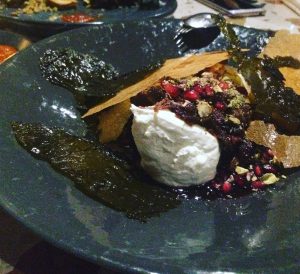 Next we had a pulled lamb shoulder. This came with a whipped yoghurt dressed with pomegranate and deep fried vine leaves. The meat was tender and falling apart, as it should be! The deep fried vine leafs added a bit of texture contrast. I thought the whipped yoghurt was a bit redundant but it was over all pretty tasty.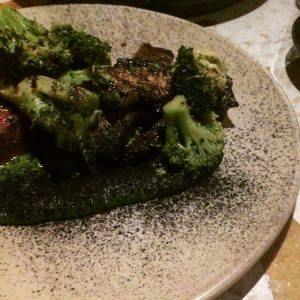 Lastly we had a black angus flat iron steak with broccoli, anchovy, lemon. The meat was well cooked, just medium rare, and the broccolli had a nice char on it. It was just not quiet as exciting as the other dishes. I really tried to have dessert people. I just couldn't do it. The serving sizes throughout the night were pretty good. We shared between four people and everyone was full.
To sum up Monster is a a beautiful elegant restaurant. It is super shiny, super modern and doing some interesting things with food.  It was really nice to have a grown-up night out in such fabulous surrounds. Not only did I get to try some really amazing food, I also got a new Adam Liaw cookbook to try out. Best night ever!