Hello hungry peoples,
Nasi Goreng is considered the national dish of Indonesia, although it is also popular in a number of countries including Malaysia and Singapore. The name literally means "fried rice" and originated to avoid wasting leftover rice. Culturally food wastage is frowned upon and this has resulted in some tasty and creative dishes. Nasi Goreng is typically eaten for breakfast, using leftovers from the night before. Kind of like an Asian bubble and squeak, where everything is thrown in a pan and fried to deliciousness. This means there is a large variation in ingredients and flavours but the use of a sweet soy sauce called kecap manis, shrimp and tamarind paste, as well as garlic, ginger and chilli is fairly typical. These seasonings produce a punchy, earthy flavour much more intense than Chinese fried rice, the dish from which it probably originated. Other additions may include a fried egg, or meat and vegetable leftovers of which chicken and prawn is the most common. There is also a popular Indonesian variation using salted dried fish. Condiments served with this dish include sambal (chilli sauce), fried shallots and pickles.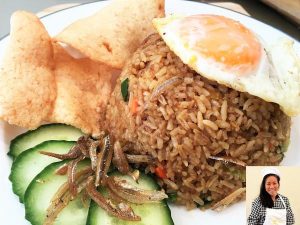 You can order a Singaporean Nasi Goreng from Nadia at Hometaste here.