Hello hungry peoples,
7 By the Lake, located on the Kingston Foreshore, has been undergoing some changes. I have talked previously about their basic concept: food that samples across the provinces of India. Sushant, the proprietor, is passionate about providing amazing Indian food. His skill with classic Indian dishes such as samosas, butter chicken and lamb roganjosh is already well established, with a successful catering business that has been running in Canberra for years. In his restaurant he differentiates by offering unusual dishes rarely seen in local Indian restaurants. I really enjoy visiting his restaurant as I know I'll be served dishes that are completely new to me and will always be delicious.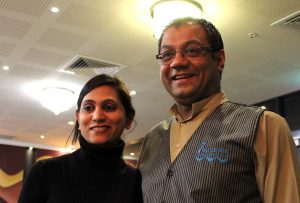 On this visit I and a large contingent of local food bloggers sampled Sushant's new 7 provinces banquet. We also got to finally meet Sushant's lovely wife who works in the restaurant when she is not busy being an IT professional. In fact the foreshore is a bit of a family affair for these guys. Sushant's cousin Sid owns the neighbouring Movenpick. I like to visit Sid regularly as I am addicted to Movenpick's Caramel ice-cream. It has chunks of fudge in it people. I'll say that again……..CHUNKS OF FUDGE!!!!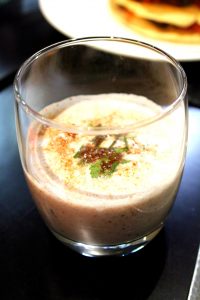 The food blogging events are always lots of fun. We talk food, writing about food, food, wordpress, more food, search engine optimisation and then some more about food. In fact the Canberra food blogging community in Canberra is awesome. Everyone is really generous with sharing ideas and on the whole is a really supportive bunch. I have heard horror stories of this not always being the case in other cities. Anyway let's get down to business and talk some more about food.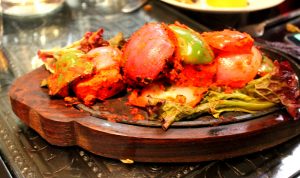 The feast was kicked off by a glass of Solkadhior Kairi Panha. This is a spicy indian drink made with fresh coconut milk and coriander, cumin seeds and tamarind pulp. I think the flavours could be divisive but I really loved the dicotomy of the cooling coconut milk and heat of the spice. This was followed by Masala Papad. This reminded me of an Indian version of Italian bruschetta with pappadums topped with a tomato salsa with onion, coriander and a touch of chaat masala spice.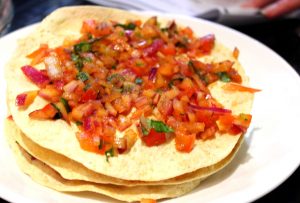 A Paneer Tikka was a lurid orange, spicy and delicious, with the melting texture of in-house made Indian cheese. The Fish Rava Fry was my favourite of the night. It hails from the Goa province, comprising Spanish mackeral cutlets coated in chickpea flour and semolina and deep fried until it has a crispy crust. The fish was gorgeous, perfectly cooked and flavoured with corainder, ginger and garlic. In fact I have never had a bad Spanish mackeral. They are the king of fish!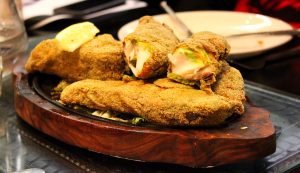 We were then served a selection of curries. Sushant has been working on interesting vegetarian curries and I think he has succeeded. A North Indian Veg Makkhnwala (butter vegetable) curry and Aloo Baingain (eggplant and potato) curry were both delicious and certainly rich enough that you don't notice the lack of meat.  The Bhoona Kukda from Rajasthan was the hottest dish of the night, with chicken cooked in a spicy red masala.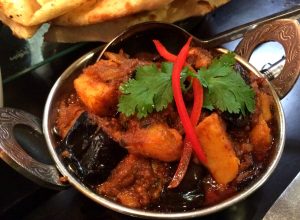 The South Indian Lamb Curry was  one of my favourites. The lamb was meltingly tender and the creamy gravy was delicious. One of the most interesting sides was a date stuffed naan "Kulcha". The frying caramelised the sugar in the dates, making a super crispy bread which I loved. The sweetness even went well with the curries. This was a surprising and delightful addition.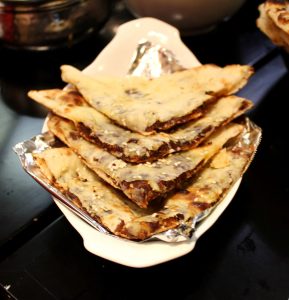 This was an amazing feast. Shushant has worked really hard to make some smart and interesting additions to his menu and I think the results speak for themselves. I will now proceed to speak for them and tell you to get them in your belly. So spicy and delicous!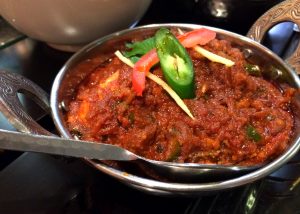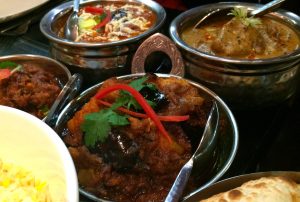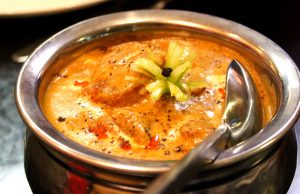 What: 7 by the Lake
Where: 143/41 Eastlake Parade, Kingston Foreshore
Opening hours: 12-3 pm, 8:30-10:00 pm Monday – Sunday
Phone: ( 02 ) 6140 7040
Email: info@sevenbythelake.com
Drinks: Beer and Wine, $5 corkage
Website:www.sevenbythelake.com
The author dined at the invitation of 7 by the Lake. All opinions stated are her own.