Hello hungry peoples,
Sticking meat on a skewer and cooking until sizzling and smokey is ubiquitous around the world and with good reason. Well cooked meat is a special kind of joy. Seekh kabab is the Pakistani take on this basic concept, and represent it well it does indeed. The kebabs comprise a very finely minced meat with a well balanced blend of spices adding acidity and heat. Quite a bit of heat actually, these are a spicy dish. Once formed they can be baked in the oven, or shallow fried but the best method is to grill them over charcoal, adding a vital smokey component to the proceedings. As they cook they are usually basted profusely with butter, preserving moisture and creating a char on the outside. This is a traditional part of the Pakistani diet and commonly served with naan or roti bread, salad and dips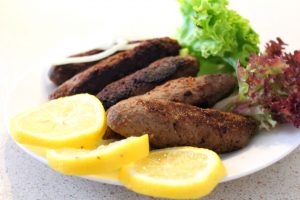 You can order this dish right now from Nida at Hometaste here.