Hello hungry peoples,
A roulade is a common dish through-out Europe with many regional variations. The name is French derived (literally meaning meaning "to roll") and comprises an outer layer rolled around a filling. This can be sweet, where pastry encases something decadent, or savoury with meat or vegetables. The encasing meat is usually caramelised then braised in stock or wine, or roasted in the oven. This produces contrasts in flavours and textures between the outer case and the filling inside.
For example Kenny at Hometaste offers a chicken roulade filled with a stuffing of minced pork with fresh herbs, carrots and asparagus. He has added a hint to his Mauritian roots by adding a rougaille sauce. At its most basic this is a home-made tomato sauce with onion and garlic but what makes it special are the elements typical of Mauritius. Wine and herbs are reminiscent of the country's French heritage but a bit of heat can also be used, nodding to its African roots. Asian flavours are not neglected with coriander and ginger a common addition. This is a representative dish beloved by its homeland with recipes passed down the generations.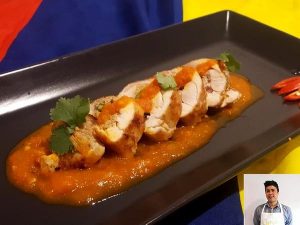 You can purchase your own roulade with rougaille sauce from Kenny at Hometaste here.