Hello hungry peoples,
This dish is a real crowd pleaser and it ticks so many boxes. It is super healthy for you, easy to make and quick enough that it can be a mid-week meal. I have spoken previously about my husbands aversion to eggs and how it is ruining my life. I can't make quiche….I get teary just thinking about it. The addition of sausages and boccocini makes this substantial enough that it is a whole meal, even if you carefully eat your way around the eggs. This is also one of the easiest ways to poach an egg. Did I mention it is delicious? I feel like I should have.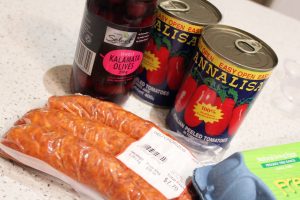 Italian Baked Eggs with Garlic Toasted Sourdough
Prep time: 10 minutes
Cook time: 10 minutes
Total time: 20 minutes
Yield: 4 serves
Calories per serving: 888
3 chorizo sausages
4 boccocini balls
1/4 cup pitted olives
Handful fresh basil
1 sourdough loave
2 400g cans chopped tomatoes
1 tbsp roasted garlic
Handful parsley
50g butter
5-6 eggs
Tools: skillet with a lid
Cooking Directions
Put your oven on 180 °C.
Melt the 50g of butter in the microwave with some diced oven roasted garlic. You can buy this ready made in a jar and it is great to keep in your fridge. If you don't have it, roast some garlic cloves in your hot oven for about 5 minutes. The roasting is worth doing as it makes the garlic less pungent and a bit sweet.
Add some fresh parsley to the melted butter and garlic, as well as some salt and pepper.
Slice your sourdough and place on a pan ready to go into the oven.
Using a pastry brush, brush the melted butter mix onto your sourdough. Set aside for now.
Slice your chorizo and fry in your skillet in a little oil on medium heat, browning the sides. Remove the chorizo and drain it on some paper towel (that stuff is oily).
Pour the excess oil out of your skillet and add your canned chopped tomatoes, pitted olives and chorizo and put on a medium heat until bubbly.
Crack your eggs into the skillet, add your boccocini and put a lid on the skillet.
While your eggs are cooking, put your sour dough in the oven to warm. Your eggs will be done when the whites are cooked and the yolks are still runny. This should be about 5 minutes.
Put the skillet onto the table (on a trivet of course) and dig in with the crusty garlicky sourdough bread. Nom nom!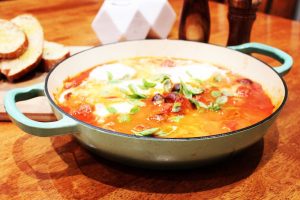 Difficulty: Easy peasy