Hello hungry peoples,
7 By the Lake, located on the Kingston Foreshore, is not your typical Indian restaurant. Not only will it fill your tummy, it provides a culinary education into Indian cuisine. The "7" in the name refers to the seven Indian provinces it sources it's dishes from and includes: Maharashtra, Punjab, Bengal, Rajasthan, Goa, Gujarat and the South Indian States. What does this mean in practical terms? It means you experience seafood dishes representing India's coastal provinces, spicy dishes from Bombay and Goa and even Indian Chinese food from the Northern provinces. The resulting menu provides some interesting and unusual dishes compared to your typical Indian restaurant, which in itself makes it worth a visit.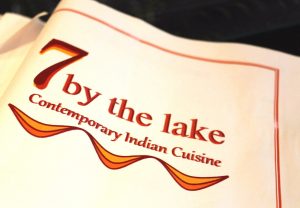 The restaurant has only been open a few months and it is an extension of Sushant Bholes culinary empire. Sushant has been providing Canberra with the best samosas in town for years. He has also been busy catering, being a regular face at events at the South Indian Embassy. One of his career highlights was feeding 400 people when the Prince visited. He is a man who is passionate about cooking and when his expansion plans required another chef he decided that a restaurant was a natural extension of his business.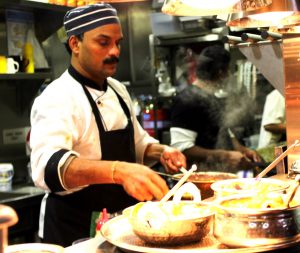 The restaurant itself is beautiful and elegant, with lots of dark wood and warm colours. The fit-out has been a labour of love, with Sushant spending over two years planning and acquiring pieces from India. This care and dedication also extends to the menu. On the night I visited Sushant selected seven dishes to capture the culinary spirit of seven provinces. These will form part of a "Royal 7 Feast" he will be holding from September onwards. To start, we were served Palak Papdi Chat, an Indian street food dish from Kolkata, Bengal. This is a classic Indian dish known for its textural contrast, with crunchy fried spinach leaves atop a base comprising potatoes, chaat masala, onions and roasted cumin. It is also a very cooling dish with fresh yoghurt and chutney drizzled on top. All of the elements in this case were well executed, with a crunch suggesting it had come straight from the deep fryer. A chicken lollypop from Bombay was a handy treat, marinated in a smoky tandoori paste and then deep fried.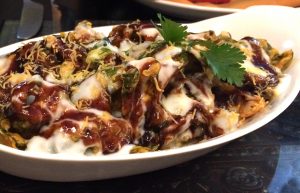 Moving onto mains, Sushant's personal favourite is the Lamb Laalmass curry, one of the spiciest on the menu. It is a well loved dish from the Rajisthan province, characterised by lots of bright red fiery chillies and heat. Luckily a cucumber raita was on hand to calm down our sizzling palettes. A personal favourite was the Chicken Chettinad, a classic south Indian curry with a complex mixture of spices and dry coconut. I have never seen this on a menu before, which is a shame because it is delicious. The Bengali chicken curry was also another surprise, using a technique where the meat is cooked in mustard oil on a slow fire. A Goanese fish curry represented the seafood provinces of India, with the delicate texture of the fish providing an interesting counterpoint to the gutsy coconut curry.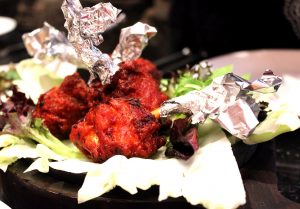 Less surprising was the mains of Murgh Makhani (Butter Chicken) and Lasooni Palak Paneer (Indian Cheese and Spinach). I totally understand why these are expected on an Indian menu but it seems a shame when there are so many more exciting things on offer. If you must have them you will be reassured that these dishes were perfectly executed and delicious.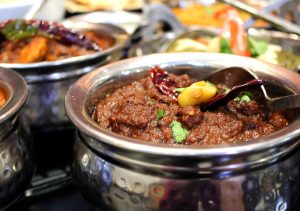 As an accompaniment, the menu also offers a variety of bread, all of which have been cooked appropriately in an Tandoor oven. If you are looking for an authentic meal, shy away from your usual white flour naan. In India this is kept for special occasions, considered too heavy and indulgent for the every day. Instead enjoy a wholemeal Roti or Laccha Paratha. These are thinner, lighter and wonderfully crispy. If you do feel like a treat, the Puran Poli from the Maharashtrian province is an unusual and tasty option. This is a sweet bread stuffed with gram daal, jaggery, cardamon and nutmeg. The cardamon reminded me of chai tea, and the mixture of sweet with the savoury curries was surprising and delightful.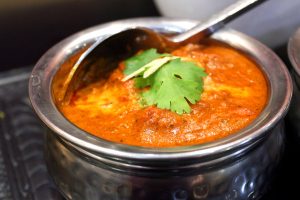 Overall I was very impressed with the quality and complexity of the dishes. From September onwards you can experience your own guided culinary Indian adventure by Sushant as part of his "Royal 7 Feast". Groups are welcome but unusually this will also be available to individuals who are feeling hungry and adventurous.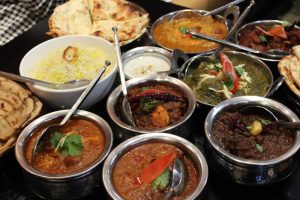 What: 7 by the Lake
Where: 143/41 Eastlake Parade, Kingston Foreshore
Opening hours: 12-3pm, 8:30-10:00pm Monday – Sunday
Phone: ( 02 ) 6140 7040
Email: info@sevenbythelake.com
Drinks: Beer and Wine, $5 corkage
Website:www.sevenbythelake.com