Hello hungry peoples,
I recently had the pleasure of attending a soft launch of the Hungry Buddha's expansion into Belconnen. Most people would know of the much beloved Curtin restaurant, which feels like it has been there forever (although well hidden in a little downstairs alley). The menu is the same at both restaurants, it is just now a bit more convenient for us Northsiders to get our fill of some really good Nepalese cuisine.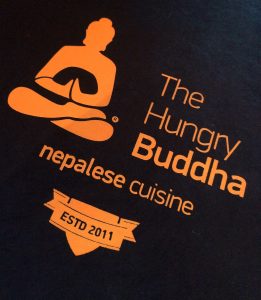 This is also a place with a lot of heart. The owners, Lachhu Thapa and Ben Richardson, are heavily involved in charity work in Nepal and even have their own foundation "Reach for Nepal", which focuses on rebuilding schools in the aftermath of the quake which devastated the country. You can eat amazing food and make a donation, good for the heart and your belly!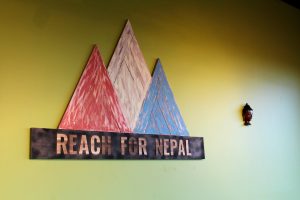 The new venue is a gorgeous space, with a lot of thought and care put into the modern decor. It has replaced a Thai restaurant, located upstairs on the corner of Luxton Street. This means there are lots of big gorgeous windows, and even a bit of a view as the sun sets. Ironically this is the complete opposite of the Curtin location, which has a homey, den like feel being underground.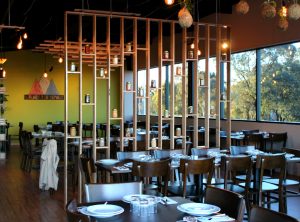 Finally getting to the food one of the things I really love about this place is the shear amount of variety with their vegetarian dishes. This is not a place that gives you the single option of a vegetable stack with some goats cheese. More than half the entrees are vegetarian choices, such as a Nepalese festival soup of mixed beans, or a vegetable cone pastry filled with tangy yoghurt, tamarind sauce and onion salsa. One of the stand-outs, and my personal favourite, is sauteed corn with herbs and spices (Makkai Tareko). The corn has a bit of caramelisation and I am certain butter must be involved somewhere in its creation. It also has an almost smokey character to it which just makes the whole thing outstanding.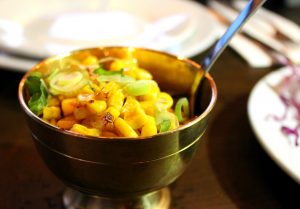 The smokiness continues with some lentils flambe (Jhaneko Daal). Sadly they did not arrive at the table on fire as I had hoped but they made up for it with their spicy flavour. I also really enjoyed the potato and bamboo shoot curry with black beans (Aloo Tamar), which had a more delicate flavour. There is also a mixed vegetable option (Jogi Tarkari) available.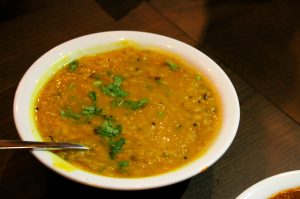 Carnivores are not neglected though. You can start with some traditional chicken dumplings (Mo: Mo:) and work your way up to some punchy dishes such as Himalaya Kukhura (chicken curry) or Khasi Ko Masu (goat curry).  I am in love with the Jhinge Tarkari (tiger prawn curry), with a perfectly balanced, slightly spicy coconut broth paired perfectly with some fat and juicy prawns.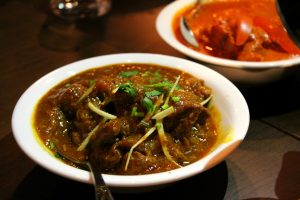 For the less adventurous there is also a number of common Asian dishes such as lamb roganjosh or butter chicken, which are all well executed but honestly…why would you?  I think the Nepalese menu is far more interesting and really makes the place. My favourite thing of all is that you can order small serves of any of these dishes (for only $9.50) which means you can order all the things.  I wish more places did this as it makes me ridiculously happy. I should note too that a "small" serve would comfortably provide an entire meal for one with some rice or roti. Get it in your belly!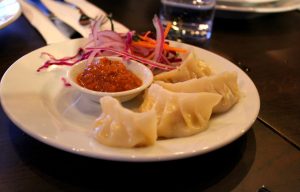 The Hungry Buddha
Belconnen
8/8 Luxton St, Belconnen ACT 2617
Ph: 0447 921 244
Website: thehungrybuddha.com.au
7 days a week, 5 pm til late
Curtin
44 Curtin Pl, Curtin ACT 2605
Ph: (02) 6285 2425
Website: thehungrybuddha.com.au
7 days a week, 5 pm til late