Hello hungry peoples,
Satay chicken is one of my hubby's favourite dishes. Given he does lean towards the fussy side, sometimes causing me to tear my hair out in frustration, I was determined to come up with a good recipe. The only problem is most peanut sauce recipes have a million ingredients. I love this recipe because it produces an amazing sauce that is really simple and easy to make. If you are feeling exceptionally lazy you can even skip the marinating stage and just fry some chicken and pour the sauce on. Let's get into it!
Satay Chicken with Green Beans
Calories per serving:
435
Ingredients
500g 

chicken thighs

1 cup 

green beans

2 tbsp 

soy sauce

2 tbsp 

honey

1 tsp 

turmeric

2  

garlic cloves
Satay sauce
1/3 cup 

crunchy peanut butter

1/3 cup 

coconut cream

1/3 cup

water

2 tbsp

sweet chilli sauce

2 tsp 

fish sauce

1 tbsp 

peanut oil for frying
Cooking Directions
Chop the chicken into strips.
Marinade the chicken in the 2 tbsp honey, 2 tbsp soy sauce, 1 tsp turmeric and the 2 garlic cloves crushed.
If your going to serve with rice get it going.
Now to make the Satay sauce. Combine the 1/2 cup coconut cream, 1/2 cup of water, 1/4 cup peanut butter, 2 tsp of fish sauce and 2 tbsp of sweet chilli sauce in a pot and cook on a medium heat so it can thicken and reduce. If you like a thicker sauce just use less of the liquid components.
Put a fry pan on medium heat with some peanut oil and fry the chicken until brown and cooked through.
When the chicken is close to cooked add the green beans and toss regularly until cooked.
Serve with rice with the peanut sauce drizzled on top.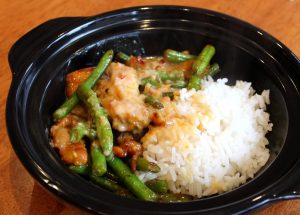 Difficulty: Easy peasy