Hello hungry peoples,
This is the gnocchi for people who are scared of making gnocchi. It is based on semolina flour, milk and eggs which bind together to form a thick custardy, dough like polenta. Once it chills it is pretty solid and all you have to do is cut in into rounds and ta da…….you have gnocchi! This makes a super rich delicious dish, a bit like a fancy mac and cheese. Semolina is also a good replacement for polenta if you don't have much time as it cooks super quick.
Roman Gnocchi
Prep time: 1 hour 10 minutes
Cook time: 35 minutes
Total time: 1 hour 45 minutes
Yield: 4 serves
Calories per serving: 611
Ingredients
4 cups milk
1 1/2 cup semolina
3 eggs
1 1/3 cup grated parmesan
50g butter
1/2 cup cream
1 tsp pepper
1 tsp salt
Cooking Directions
Grease a medium sized casserole dish.
Put the 4 cups of milk into a pot and bring to a boil.
Reduce heat to medium. Whisk in the 1 1/1 cups semolina. Stir it until it thickens. Remove from heat.
Stir in 3 eggs, 1 cup of parmesan and 50g of butter. Gruyere cheese instead of parmesan would be amazing but I didn't have any. Ce la vie.
Season with salt and pepper.
Pour your semolina mixture into the casserole dish. Chill in the fridge for an hour.
Preheat your oven to 200°C.
Remove your semolina from the casserole dish. It will hold together so you should be able to just turn it upside down.
Using a biscuit cutter cut the semolina into rounds. You can really do any shape you want but rounds is traditional.
Arrange the rounds back into the dish. I like to use the off cuts to help prop the rounds up. Plus I hate wasting food.
Pour your half a cup of cream onto your rounds. Sprinkle with the remaining 1/3 cup of parmesan and season with salt and pepper.
Bake for 25 minutes. Serve with a green salad so you don't have a heart attack. This is one crazy rich dish.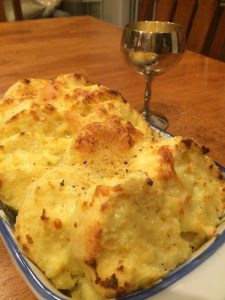 Difficultly: Easy peasy