Hello hungry peoples,
There are so many egg recipes out there and so much that you could do with them, I could easily have a whole blog devoted to them. My list of classic egg dishes to conquer includes an amazing quiche, all the different kinds of omelettes, tuscan baked eggs, the perfect custard, hollandaise etc. etc. This may take me awhile people.
I have finally learnt how to make a proper french omelette and I thought I would share it with you lovely peoples. So what is the deal with french omelettes? My research has come to the following conclusions. It has to be custardy and golden yellow. The eggs shouldn't be browned in any way. If you want other hot fillings, cook them beforehand as they will not get hot in the omelette. Let's get into it!
Spinach and Cheese French Omelette
Prep time: 5 minutes
Cook time: 10 minutes
Total time: 15 minutes
Yield: 1 serve
Calories per serving: 354
Ingredients
3 eggs
1/4 cup grated cheddar cheese
1/4 cup baby spinach
Pinch salt
Pinch pepper
Cooking Directions
Crack your three eggs into a bowl. Apparently you are not supposed to crack eggs on the edge of bowls. You are supposed to tap them on a flat surface like your bench, which reduces egg shell getting pushed into the egg.
Whisk the eggs so that they are well combined.
Season with salt and pepper.
Put a non-stick pan on medium heat with a tbsp butter. Even professional chefs use a non-stick fry pan for omelettes because it is a million times easier.
Once the butter is melted and starting to bubble, pour the eggs in. The pan should still be cool enough that the eggs don't bubble or sizzle when added.
As the mixture cooks, stir the eggs curds off the bottom as they form with a spatula. The back of a fork does a great job but is a bit nasty for your non-stick pan.The scraping allows the egg to cook but not to brown.
Once everything is looking softly scrambled (still kinda soggy) push the egg together so that it forms a layer. Make sure you get the whispy bits on the edges of the pan.
Sprinkle the grated cheese and some baby spinach on top.
Season with salt and pepper.
The eggs will still look a bit "wet" on top but fold the egg over itself, rolling into a log shape. This will also help to melt the cheese. When you cut inside it will be creamy and tender.
That's it, you're done!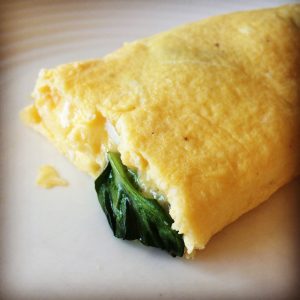 Difficulty: Easy peasy