Hello hungry peoples,
Today we are discovering the joy that is Polish food. I have until recently been quite the novice. I had never even had a pierogi. I had only read about them and imagined them in my food filled dreams. A few trips to the White Eagle Polish Club soon fixed that.  Now my tummy has seen so very, very many. Result? I am a much happier and rotund person.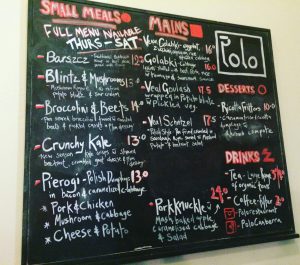 The Polish Club has been kicking around since the 70's when it was designed by some shmancy pants Italian architect. It doesn't seem to have changed much since then which gives it this lovely retro homey vibe. It is also pretty casual. We even took the kids for an early dinner and it didn't feel too awkward. I am not sure the other patrons felt as such. People who bring kids to restaurants eh? Such a-holes.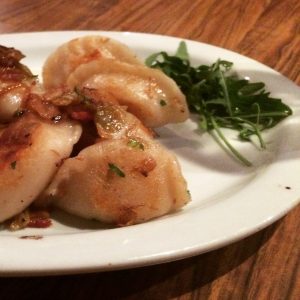 The club comprises a bistro and a bar in the main room, with a couple smaller dining areas. Even though there is quite a lot of seating this gives it an intimate feel. The bar serves Polish beers, vodka and liqueurs (honey vodka anyone?) and the bistro serves full on authentic Polish cuisine. First lets discuss cost. This place is a bargain. Most of the smaller meals were less than $15 and the serves were generous. A good start as I could order all the food. I like eating all the food.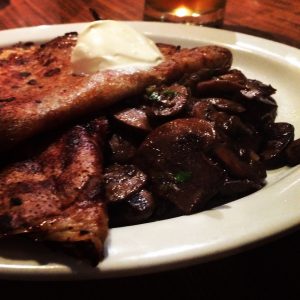 Polish cuisine tends to be hearty, rich and calorific, perfect for a Canberra Winter. It is generally meaty or noodly with a cabbage component. It also seems to incorporate a lot of preparation such as slow cooking or sauerkraut (also known as pickled cabbage). Another good reason for me to come to the club rather than try to make the stuff myself. My first priority was to get some pierogi in my belly. Pierogi are one of the first things you will hear about when you ask about Polish cuisine. These are dumplings, which come with a variety of fillings, pan fried and served with sour cream and bacon bits. I tried the potato and cheese pierogi. To me they tasted like asian pan fried dumplings but filled with sour cream flavoured chips. Quite tasty but not exactly a health food.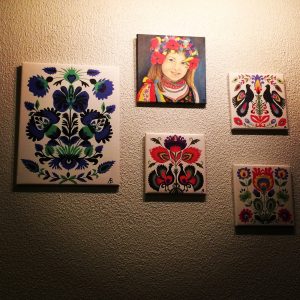 We also enjoyed some Blintz with a mushroom ragout. These are fried potato pancakes that were sadly a bit overcooked. It was a real shame as there were some great flavours and it had real potential. I did enjoy the mushroom ragout. The most disappointing dish of the night was the Golabki, a pork and beef mince filling wrapped in cabbage leaves. Nice in concept but there was a strange sour after taste that no-one seemed to be a fan of. The tomato sauce it was served in was more like a very thin soup and didn't add much to the dish.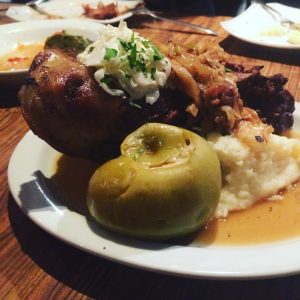 The veal schnitzels were redeeming. Obviously pan fried (like all schnitzels should be) and crumbed in sourdough, these were perfectly cooked with a lovely mash accompaniment. The real stand-out was the slow cooked pork knuckle. This thing was huge, with lovely tender juicy meat, a whole baked apple, caramelised cabbage and more mash. Pork and apple are just made to go together and it was a bit special. This is clearly one of their signature dishes.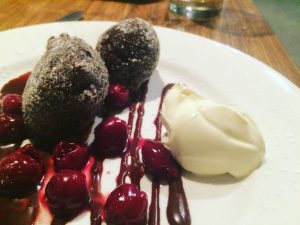 The desert menu is limited. You can get ricotta fritters and…. er…ricotta fritters. They did have a special blackforest fritter available this night so we got both. The original was far superior, a kind of deep fried fluffy dumpling, more cakey than cheesy, with a hint of lemon. The blackforest version were chocolately, with a cherry syrup. Lovely but the lemony ones were just perfection!
p.s. The only thing I really regret is I didn't order the veal goulash wrapped in potato blintz. I will rectify this shortly.
p.p.s. The Polish club also has a deli day on Saturday. I have never gone but I imagine it is fabulous. Bring on the meats!