Hello hungry peoples,
I recently caught up with some old co-workers (Lord Howe Rise basin analysis team wooo!). My old boss Graham is a serious foody so I had to pick somewhere nice. We once spent a month and a half on a boat together talking about food (and occasionally doing something geological). I would even run reconnaissance on the kitchen daily so that we could mentally prepare for what was going to be served for dinner that night.  Our overalls may have been a bit tighter towards the end. It is a bad sign when you are having trouble limiting yourself to two desserts a day. Being at sea is boring man. That's why sailors go crazy and start imagining dugongs are sexy lady fish.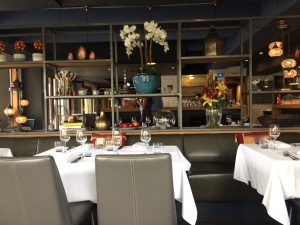 Anyway…back to food. Pomegranate is fairly new on the scene and I had been hearing good things about it. It is located in the building across the street from the Kingston shops, which has hosted many a fine restaurant (such as Artespresso) but is a bit of an odd location that seems to have pretty frequent turnover. I hope these guys can break the curse because the food here was really solid.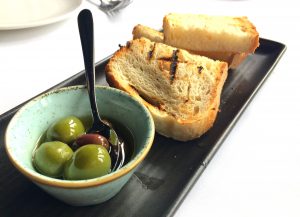 Firstly the service was attentive and the waitress was very skilled in up-selling, talking us into some bread and olives to start and a few of the side dishes. The entrees are dominated  by seafood options, such as salmon carpaccio, prawn mussaka and balmain bugs. There are also a lot of vegetarian options such as zucchini fritters, zucchini flowers and a char grilled field mushroom. Since we were having a work lunch we skipped the entrees and went straight to mains.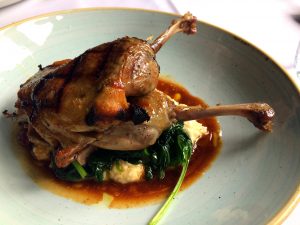 The main options are more balanced meat wise, essentially offering one of everything (excluding some lucky little piggies). I went with the confit duck served with sautéed spinach & red cabbage, dressed in pomegranate sauce. This was served on top of some sort of vegetable mash, which was very well seasoned, the saltiness contrasting nicely with the rich duck meat.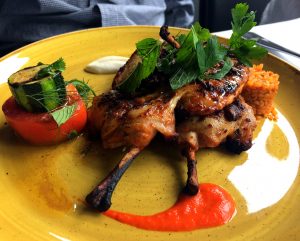 My co-worker Riko went with the roast quail, which was generously portioned and simply beautiful to look at. Nadege and Graham went for the baby hiromasa kingfish with braised leeks and carrot and Dijon mustard dressing. Lastly Ron went with a classic chicken breast served with dijon mustard and lime dressing, and chilli mash potato. Everything looked delicious and there has been obvious care taken with all of the dish elements, making for a very refined meal.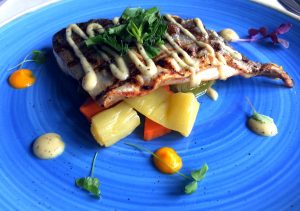 We skipped dessert but there was a nice range of options. A chocolate mousse for the chocoholic, a selection of cheese, or the more Turkish inspired desserts, including the classic, Turkish delight. Overall I was really impressed with the quality of the food on offer. The other great thing is that the restaurant has a very reasonable $60 fine dining banquet, where you get to try a range of dishes from the menu. If that isn't sufficient there is a $75 degustation ($105 with wines), which is again very reasonably priced for the quality of the food. Nom nom!