Hello hungry peoples,

I eat a lot of porridge and I am on a constant quest to make it a bit more interesting. This is my latest creation, an Elvis inspired dish. Elvis was renown for his love of butter soaked peanut butter and banana grilled sandwiches. This dish is significantly healthier and you can omit some of the ingredients to make it more so. You can't have an Elvis inspired dish though without going over the top. The consensus at my work's tearoom was that a peanut brittle on top would be truly decadent and authentic. This dish taste perfectly nice without it but if you feel like being a bit ridiculous you can go the whole hog. Elvis would respect that.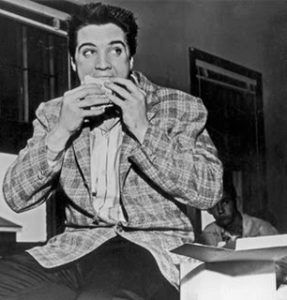 Peanut Butter and Banana "Elvis" Porridge
Prep time: 5 minutes
Cook time: 15 minutes
Total time: 20 minutes
Yield: 4 serves
Calories per serving: 265
Ingredients
1 cup oats
1 cup milk
2 cups water
2 tbsp peanut butter
1 banana
2 tbsp peanuts
Cooking Directions
I like to soak my oats overnight to speed up the cooking process. You can omit this, you will just have to wait longer for food, something I find unbearable. Put your 1 cup of oats into a pot with 1 cup milk and 2 cups of water. If you like a rich porridge you can use only milk but I like the balance 1:3 produces.
Add your two tbsp of peanut butter.
Put the pot on a medium heat and cook the oats, stirring often. The oats will be creamy and soft once they are cooked. This will take about 10-15 minutes.
Take the oats off the heat and top with sliced banana and maple syrup. If you desperately want crunch but are health conscious sprinkle some peanuts on top.
Now…..for a truly decadent Elvis experience……sprinkle some of this on top.

Peanut Brittle
Prep time: 5 minutes
Cook time: 10 minutes
Total time: 15 minutes
Yield: 8 serves
Ingredients
1 cup sugar
1/2 cup water
1 cup peanuts
1 tsp baking powder
1 tbsp vanilla paste
Cooking Directions
The brittle will need to set so it is best to make it the day before. Put the 1 cup sugar and 1/2 water in a pot on a medium heat.
Put the tbsp of vanilla paste in and give everything a good stir.
Cook the sugar until it is an amber colour, stirring often.
Add your tsp baking powder and stir. This will make the brittle bubble and will lighten the texture. We do not want to crack any teeth.
Add your peanuts and give a good stir. I like to use salted peanuts as it lends a salted caramel flavour.
Pour the mixture onto a greased pan and leave it on the counter to set. Once it has set break it up into shards. You can make quick work of it by using a rolling pin. That's it, your done!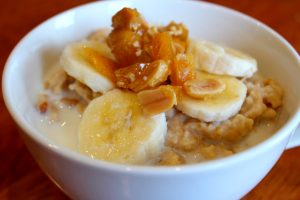 and I can't help falling in love with youuuuuuu
p.s. You didn't really think I would get all the way through this without at least one dorky Elvis reference.