Hello hungry peoples,
I love that Canberra has suburban shopping centres filled with restaurants that are a food lovers dream. Ainslie shops is one such place, and Pulp Kitchen has long been providing the locals with some delicious European fare. It has changed hands a few times but it has been consistently tasty and I was pleased to see this is continuing with the current owners.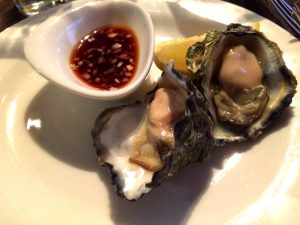 The theme hasn't changed much, still being classed a "casual European Brasserie" although I think the casual is a bit misleading. I think it leans more towards being a bit fancy and it wouldn't be inappropriate for a special occasion. In fact we were there to celebrate the lovely Venessa's birthday.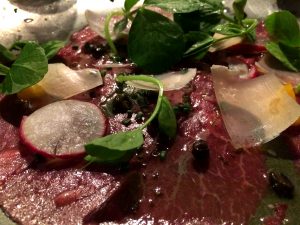 Since we were going all European fancy it seemed appropriate to start with some appertifs, which are available either in peach of blackcurrant. For the food we decided to keep it simple and get the tasting menu. When in doubt order all the things! This is available for $95 for food only or with wines for $125. I never get the wine option as I just can't drink that much wine in one sitting. If you can though it is worth it as the experience of good wine matching with each dish can be quite a culinary experience. The restaurant stocks a range of European and local wines and liqueurs to complement the French and Italian influenced menu.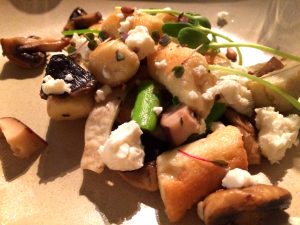 The tasting menu started simply with crusty white bread and confit garlic butter. Seriously I sometimes think I could happily dine on good white bread with butter every night. This was good bread and good butter. It was followed by really fresh good oysters with Mignonette (a vinegary sauce).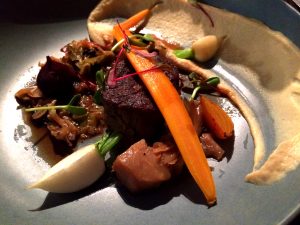 Next things became more complex, a wagyu carpaccio with smoked egg yolks, parmesan and vinaigrette. It was nice but it makes me a little sad to not have an entire steak of wagyu beef. The following garlic and chive Parisienne Gnocchi was a little misleading in name, since it was potato free. I think that technically makes it a dumpling but it was fried in butter so frankly….who cares?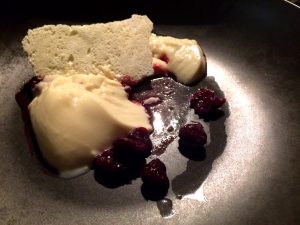 My favourite of the night was the pressed lamb neck. The meat was meltingly tender, perfectly paired with some earthy vegetables and a celeriac puree. This was also a substantial dish that pushed me over the edge into uncomfortable fullness. We rallied though for the amazing European cheese platters. I love me some stinky cheese.  This was not all though….there was still one more course to get through, a sour cherry panacotta, offset by a meringue for crunch and the strange addition of white pepper.
The addition of pepper to a dessert may be a stroke of genius but for me it just reminded me of a trauma from earlier in the day. Ironically my son had found the white pepper in the cupboard and decided that the entire house needed to be coated in that. Maybe that's what happened in their kitchen. Man toddlers……..such a-holes.