Hello hungry peoples,
This is one crazy sandwich. The slow cooked pork, the melted cheese, the pickles, the mustard and mayo and, of course, a topping of pork crackling.  The name suggests a Cuban origin but I think this is more of an American style sandwich and would be comfortable nestled among your Reuben style sandwiches.The original also includes ham, which I find just a bit too much but if you want to create an authentic experience have at it. I really like using bake at home baguette's, which guarantees the freshest, warmest bread. If you have trouble getting your pork to crackle properly, just cut the fat off and microwave it (make sure you cover it or the fat will go everywhere).
Cuban Sandwich
Prep time: 24 hours
Cook time: 3 hours
Yield: Serves 4
Calories per serving: 1517
Ingredients
1 

pork shoulder

4 

pickles

4

bake at home baguettes

1 

onion

1 

orange

8 slices 

swiss cheese

1/2 cup 

mayonnaise

1/4 cup 

Dijon mustard

1/4 cup 

butter

2 tbsp 

oregano

2 tbsp 

pepper

2 tbsp 

cumin

2 tbsp 

salt

1 bunch 

fresh coriander

1 tbsp 

chili flakes
Cooking Directions
Marinate pork overnight in the rind of the orange, the juice of the orange, 2 tbsp pepper, 2 tbsp cumin and 1 tbsp chili flakes. Make sure the skin side is on top and keep it dry. Add lots of salt to the skin to help it dry out. You don't have to do this overnight but the drying out process makes your crackle much more likely to happen.
Preheat oven to 150 °C.
Roast for 3 hours. Add water to pan as needed so it doesn't dry out. The steam keeps the meat moist. After 3 hours the meat should be moist and tender and easy to carve.
Increase the oven temperature to 180 °C.
Slice open the baguettes. Generously smear inside with mayonnaise and Dijon mustard. Add slices of cheese and the onion, finely diced. Add the pork and brush the sandwich with melted butter.
Bake for 20 minutes until the baguette is golden brown and the cheese is melty. Top with fresh coriander and dig in!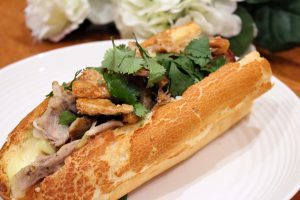 p.s. This actually makes lots and lots of pork. You will have left-overs.
Difficulty: Easy peasy