Hello hungry peoples,
There used to be an amazing vegetarian restaurant in Watson called Satis. Sadly it is long gone but I still remember their fried potatoes with chili fetta. They would serve it as a side with eggs and sourdough. It was perfectly finished off with  a "Taj Mahal" coffee, a coffee with a teaspoon of chai spice long before a dirty chai became a thing. Since I can no longer easily source these things, I did what I usually do and learnt to make my own so I can have it whenever I want. Now you can too!
Chili Feta Potatoes
Prep time: 10 minutes
Cook time: 30 minutes
Total time: 40 minutes
Yield: Serves 2
Calories per serving: 413

Ingredients
1 

large potato

1/4 cup 

marinated feta

1/2 tsp 

chili flakes

2 tbsp 

butter

2 tbsp

olive oil
Cooking Directions
Dice your potato and parboil until the potato is soft in salted water.
While the potatoes cook, combine your marinated feta with the 1/2 tsp of chili flakes. Include some of the marinating oil and the herbs.
Drain and fry the potatoes in 2 tbsp of butter and 2 tbsp olive oil. Cook until crispy and golden.
Top with the marinated fetta and serve with poached or scrambled eggs and some good sourdough. That's it, you're done.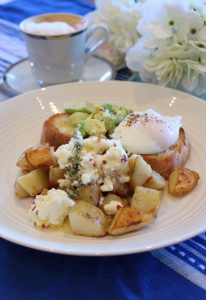 Difficulty: Easy peasy