Hello hungry peoples,
I admit I have been somewhat slack with restaurant reviews lately but to be honest, I haven't been eating out that much and it has been awhile since I was legit excited about a restaurant. Kinn Thai has broken the drought. Firstly, if you plan to visit I would definitely book ahead. The place was crazy busy and it was somewhat tricky to even get to my booked table. The restaurant is located next to Sammy's in Civic and a favourite haunt of my friend Pallavi. We stopped in for a quick bite before heading to the Canberra theatre to see Arj Barker perform.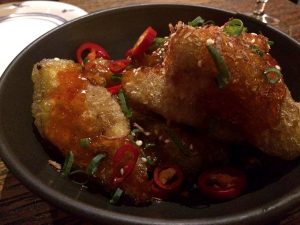 Pallavi is vegetarian and forever lamenting the lack of interesting vegetarian options in most restaurants. I don't blame her, the token vegetarian dish in most fine dining restaurants doesn't stray far from vegetables stuffed with cheese and charging you a tonne for the pleasure. Kinn Thai does not have this issue. Firstly they specialise in Thai food, which is generally a happy place for vegetarians. I also really love Thai food. At it's best it is full of clean herby flavours perfectly balanced with a bit of heat and spice. Kinn Thai is Thai food at its best.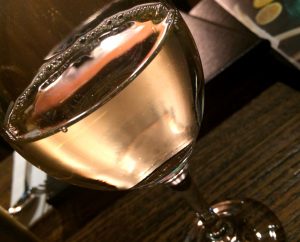 I started my meal with a betel leaf topped with a tiger prawn, fresh herbs and a special sauce, forming the perfect bite.  I had never had betel leaf before but it is an obsession in some Asian countries, where it typically encases nuts of tobacco. It also turns your teeth red if you eat too many. Sampling one does not produce this problem and it did provide a leafy freshness to the entree.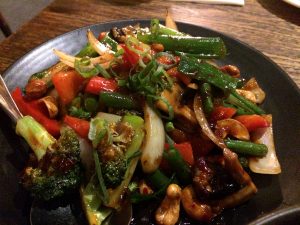 I followed this with a perfectly steamed ginger fish fillet with ginger and soybean sauce, which was one of their small dishes but filling none the less. In fact I think any of their small dishes provide a satiating meal if you are on a budget. Pallavi enjoyed a vegetarian stir fry, which she said was perfectly cooked and delicious. She also selected a virgin pina colada from their extensive cocktail menu. Cocktails with spicy food sounds like a winning combination to me.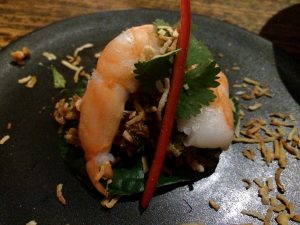 One of the clear highlights was a deep fried eggplant with tamarind sauce. I know eggplant is not the most exciting of vegetables but man it is tasty when deep fried. To be honest I suspect a boot would be delicious deep fried. Anyway….I digress. This was golden crispy perfection! It is worth a visit just to sample this delicacy and I will definitely be going back. Pallavi has also thoroughly tested their lunch specials and says they are reasonably priced and delicious!