Hello hungry peoples,
There is something caveman like about roasting a big hunk of meat. I also enjoy the fact that is a relatively simple process. Add some flavours and shove the whole thing in the oven. Ta dah! I used to buy sun dried tomato lamb legs from the butcher but the truth is making your own is super simple and doesn't require many ingredients. The complex flavours of the dish are certainly helped along by all the herbs and oil the tomatoes are marinated in making for one tasty dish. Let's get into it.
Sun dried Tomato Roast Lamb
Prep time: 10 minutes
Cook time: 2 hours
Yield: 6 serves
Calories per serving: 588
Ingredients
1 

lamb leg

4 

garlic cloves

1 cup 

sun dried tomatoes

2 cups 

chicken stock

1 tsp 

salt

1 tsp 

pepper
Cooking Directions
Preheat the oven to 180 °C.
Peel the garlic and put the 4 cloves in a food processor with the 1 cup of sundried tomatoes.  Blend everything to form a paste.
Put the lamb into a baking pan and smother in the tomato paste.
Add the two cups of chicken stock to the pan. This is not strictly necessary but I find it helps to prevent the meat dying out and adds even more flavour. Hmmmmm….flavour!
Put the meat in the oven and roast for 1 hour 30 minutes.
Remove the alfoil and roast for another 30 minutes. This is also a good point to throw some roast vegetables in the pan if you do wish.
Remove from the oven and serve up. That's it, you're done!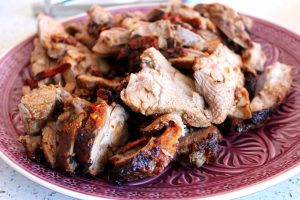 Difficulty: Easy peasy