Hello hungry peoples,
This week I have been working on a few recipes involving figs, since they are in season in Australia. They are a pretty mild fruit but when paired with goats cheese and prosciutto they are elevated to next level deliciousness. I have been using mine as a salad or a pizza topping. In other news we have been helping our pup Russell adjust to living without his puppy companion after we lost Riley. I suspect he must think we hated that other dog as he is now allowed to sleep in our room, has the run of the house and been feasting on steak (it smelt a little bit dodgy).
This weeks recipe, Minestrone, is a classic soup that was on my list of basics to master. The original has a few key ingredients you can't really mess with but I found one of the key changes that really amps up the flavour is to use beef broth. Have I told you about gel stock cubes? I feel like I have a few hundred times. They are by far my favourite and make the tastiest soup ever! Also don't forget the Parmesan for the final Italian flourish. You can also throw in any leftover Parmesan ends you might have sitting around. Lastly I like to use risoni pasta, the small rice shaped ones, as they add the pasta element but are small enough that they don't overwhelm the dish by making it some kind of carb explosion. Let's get into it!
Minestrone
Prep time: 10 minutes
Cook time: 20 minutes
Total time: 30 minutes
Yield: Serves 8
Calories per serving: 378
Ingredients
4 rashers bacon

4 cups beef broth

2 onions

1 

carrot

1 x 400 g can rinsed cannellini beans

1 x 400 g can diced tomatoes

1/2 cup risoni

1/2 cup grated parmesan
1/2 cup frozen green beans

4 tbsp fresh parsley

1 

garlic clove

1 tbsp salt
1 tbsp pepper
2 tbsp olive oil
 Cooking Directions
Dice the bacon, onions, garlic and fry until browned on a medium heat in a large soup pot.
Dice the carrots and also add them to the pot. Brown slightly.
Add the 4 cups of beef broth, can of cannelini beans, the diced tomatoes, the risoni and season well.
Let the flavours develop a little and then before serving stir through the 1/2 cup grated parmesan.
Check the seasoning and then serve with some warm crusty bread and butter. That's it, you're done!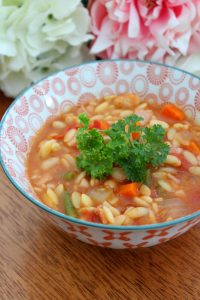 Difficulty: Easy peasy