Hello hungry peoples,
Chicken and sun-dried tomatoes are a match made in heaven. They just are dude….deal with it! It is also creamy and cheesy. So many good things! These flavours also make an amazing risotto. Do it……do it now!
Chicken and Sun-dried Tomato Spaghetti
Prep time: 20 minutes
Cook time: 20 minutes
Total time: 40 minutes
Yield: Serves 4
Calories per serving: 430
Ingredients
500 g 

chicken breasts

1/2 cup 

sun-dried tomatoes

2 hand fulls 

baby spinach

1/2 cup 

cream

100 g goats cheese

1/2 cup 

chicken stock

1/2 cup 

grated parmesan

2 cloves 

garlic

250 g 

spaghetti
Cooking Directions
Put a pot full of salted water on a high heat.
Put a fry pan on medium heat with a few tablespoons of oil from the sun-dried tomatoes.
Dice the chicken into chunks and fry until golden and cooked through.
Towards the end, dice the garlic and sun-dried tomatoes and add to the pan.
Add the half a cup of cream and half a cup of chicken stock to the pan. Add the baby spinach and Parmesan (leave a little for the end) and give it a good stir.
While the sauce thickens a little, drain the spaghetti and then mix it into the sauce.
Plate and sprinkle with a little more Parmesan. That's it, you're done.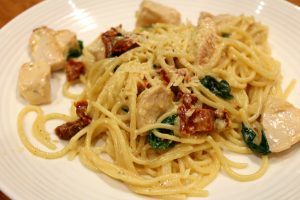 Difficulty: Easy peasy