Hello hungry peoples,
People are obsessed with deep dish pizzas and since I can't buy one in Australia I thought it worth working out how to make my own. I had to study and came up with a few non-negotiables. Firstly the order of toppings is all upside down. The cheese goes directly on the crust and the sauce is last, although a bit of Parmesan on top and on the crust edges is regarded fondly by most. You also use a lot more of the toppings, which provides more flavour to counteract the soft bread-iness of the dough. This dough needs at least 60 minutes to rise properly. The pizza itself is cooked in a skillet, which helps to produce a golden crunch on the outside of the crust. This is a completely different pizza experience that is worth the effort!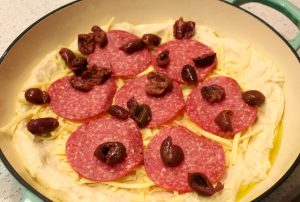 Chicago Deep Dish Pizza
Prep time: 60 minutes
Cook time: 35 minutes
Total time: 1 hour 35 minutes
Yield: 1 large pizza
Calories per serving: 506
Ingredients
2 cups 

water

3 1/2 cups 

plain flour

1/2 cup 

semolina

1/2 cup 

melted butter

1 tsp 

salt

1 tbsp 

sugar

2 tbsp 

yeast

1 ball 

mozarella

12 slices 

pepperoni

1/2 cup 

passata

1/4 cup 

olives

4 

mushrooms
Cooking Directions
Preheat oven to 200 °C.
Mix flour and semolina. Make a well in the flour. Add yeast, warm water and sugar into the well and make a paste. Leave for 5 minutes to get bubbly (this is the yeast doing it's job).
Add the salt to the dry part of the mixture, the melted butter and mix together (I use the dough hook on a mixer).
Coat a skillet in a bit of olive oil. Push the dough into the skillet, thinning the inside and running the edges about an inch up the sides.
Add a layer of cheese first.
Add your salami, mushrooms and olives.
Top with passata and then the parmesan cheese. Be sure to get some parmesan on top of the edges.
Bake for 25 minutes.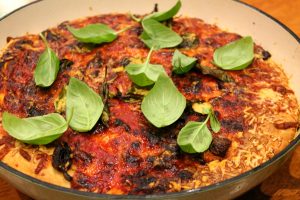 Difficulty: Easy peasy