Hello hungry peoples,
I have decided that one of gaps in my culinary knowledge is how to make cocktails and it is something I am working on rectifying. I love a cocktail but I do not like the exorbitant prices you pay for them. I am going to start working my way through the classics and try to become progressively more adventures. This is quite the undertaking because really there is only so many cocktails you can drink by yourself before you have a bit of a *problem*.  I have discovered I can manage a cocktail on Friday night if I have done all the things I need to do because I am useless afterwards.
I thought I would start my heavy drinking journey with one of my favorites, a classic Mohito. Minty, limey and oh so strong! After much discussion with one of my co-workers (totally work related right??) it was decided that the key to a great Mohito is the sugar syrup. I have tried variations which use sugar and it just isn't the same. Thankfully this recipe makes heaps extra so you will have plenty for all your future cocktails. If your into a really sweet Mohito I have seen lemonade used but I am sure purists would be horrified. I think I'll save that for the virgin version (coming soon). Let's get into it!
Mohito
Prep time: 5 minutes
Cook time: 10 minutes
Total time: 15 minutes
Yield: 1
Calories per serving: 244
Ingredients
15 mint leaves

2 shots white rum (bacardi)
1 cup sugar
1 cup water
1 lime
Ice cubes
Soda water
Tools: Cocktail shaker
Cooking Directions
Combine the 1 cup of sugar with 1 cup water in a saucepan on a medium heat and stir to combine. It will take about 5 minutes for the sugar to fully incorporate. Take off the heat and allow to cool.
Place the 15 mint leaves into the bottom of the cocktail shaker and muddle it. This means squash it a bit. I like to use a pestle.
Place 2 shots of bacardi and 1 shot of sugar syrup into the shaker.
Quarter the lime and squeeze the juice into the shaker. Place the remainder in the shaker as well.
Add four ice cubes and give the shaker a really good shake. The ice helps to break the mint leaves up a bit more.
Pour into a high glass and finish with some splashes of soda water. Give it a mix and salut!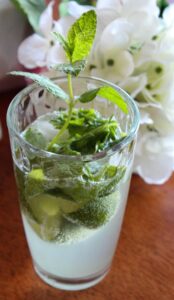 Difficulty: Easy peasy