Hello hungry peoples,
I am not a huge fan of "healthy" desserts but my mothers aversion to sugar means I have to be a bit creative sometimes. The components of these chocolate balls are pretty straight forward, with the sweetness provided from dried dates without having to use some kind of sugar replacement. The nuts provide a lovely texture and a bit of cocoa gives it some decadence. I have only recently started using salted cashews to make some salty chocolate balls because I am very immature and a South Park nerd. Let's get into it!
Chocolate Balls
Prep time: 10 minutes
Cook time: 5 minutes
Total time: 15 minutes
Yield: 15 balls
Calories per serving: 165
Ingredients
1 cup pitted dates
1 cup water
150 g dry roasted almonds

150 g roasted salted cashews

1/2 cup toasted coconut

1/4 cup cocoa
Cooking Directions
Cook the dates in 1 cup of water until soft and mushy.
Put the nuts into a food processor and blend.
Add dates, cocoa, half the coconut and mix.
Get 1 tbsp of mixture, form a ball and roll in the remaining coconut. Repeat until all the mixture is gone. That's it, you're done!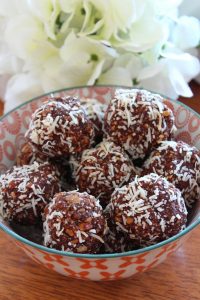 Difficulty: Easy peasy