Hello hungry peoples,
The Arboretum recently hosted an amazing event, the Game of Thrones Mid-Winter Feast.  Being the nerds that we are, my friends and I decided to dress up for the event which was lucky because EVERYONE dressed up. They were definitely my people. First off the place looked amazing. The staff were dressed in house colours. There was a plethora of animal skins and skulls and even a giant throne that you could sit in if you dared.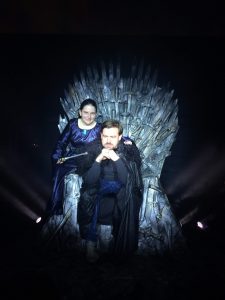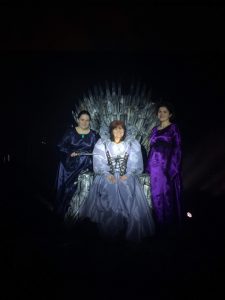 First off we hit the mulled wine pretty hard. There were heaps on "on-theme" cocktails but the mulled wine was free, unlimited and damn delicious.  When we made our way to the seats we were treated with a fabulous view over Canberra, as well as an adorable on theme table seating.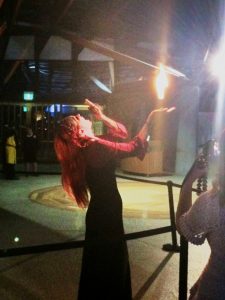 The Game of Thrones theme played and before we knew it our entrees had arrived. In fact this was the way the whole night progressed.  I now expect delicious food delivered whenever I hear that characteristic lilt.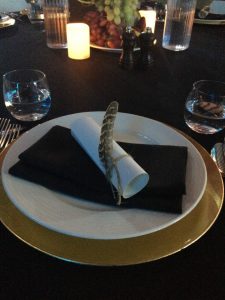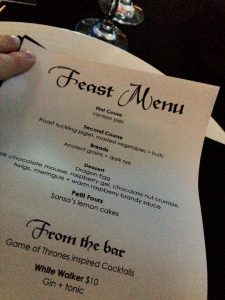 We started with venison pies and dark seeded bread. I may be uncouth enough to suggest that some tomato sauce and butter would have really topped them off. It was redeemed however with a show stopping suckling pig. They literally brought the whole thing out, plonked it on your table and said "have at it!". Carving a whole pig at your table is somewhat challenging. It was worth it though, as the pig was super moist with lots of roasted earthy vegetables.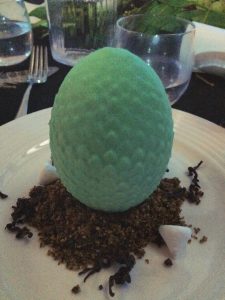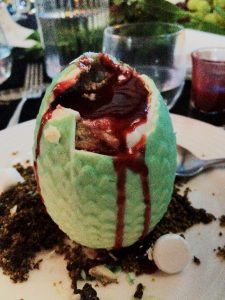 Unfortunately I overindulged and was not ready for the finale; a white chocolate dragon egg stuffed with chocolate mousse and a brandy raspberry sauce. The egg was ridiculously sweet so I really loved the tart sauce with it. The only thing that would have improved it would have been a thinner tempered chocolate shell but I understand that something that delicate is probably not that feasible for tonnes of people. There was also some delicate lemon cakes that were a nice contrast to the sweetness. Overall the setting and the food made for a great night out. I even had a fan girl moment as Head chef Janet Jeffs wandered throughout the crowd. She is amazeballs.
p.s. Sorry about the fuzzy photos, The curse of "mood" lighting.