Hello hungry peoples,
I recently got to experience a night filled with amazing food, drag queens and one mother of a rain storm. We started the night off at Raku in the city. I have tried to get into here on multiple occasions on the advice of my old boss who sold it as "the best Japanese food he has had outside of Japan". Graham knows his stuff and we have a history of whiling the work hours away  talking about food, what we have eaten, what we want to eat and our serious future food plans. Raku is super popular and if you want to get in you need to make a booking. Thankfully my friend Kath got us a table and I was finally able to experience  the beauty that is Raku.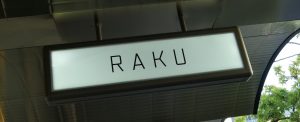 This is proper Japanese food and the menu is filled with so many interesting things I couldn't even start making choices. Instead we went with the tasting menu, which is super generous with eleven different items for only $80 per person (minimum 2 people).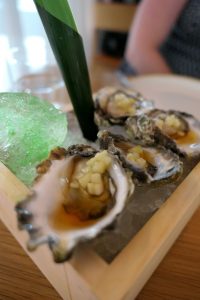 First off, this is a serious bargain.  The amount of seafood served, and the amazing quality of said seafood, makes me think they can't be making a whole heap of money on this. We started with Merimbula oysters, with cucumber and tozasu. Man I love oysters. They are the salty candy of the sea.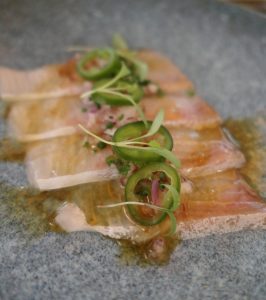 Next we had Tasmanian salmon tartar with yuzu miso and squid ink cracker. While the menu is largely made up of raw fish, it is the use of sauces and seasoning, and some serious carving skills, that make the dishes so impressive. This is also not my first time having squid ink crackers, which have featured at Monster as well. They are essentially like a prawn cracker the colour of night. The puffed crispiness was very effective at scooping up the diced salmon.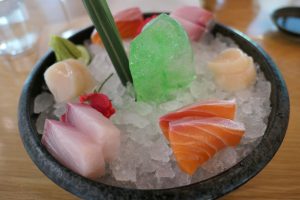 A bowl of sashimi on ice was a food photographers dream. You would think all of the raw fish would  be monotonous and it is a tribute to the restaurant that they can do this and still maintain excitement. I also loved the nigiri, served warm but not cooked (which is apparently how you are supposed to do it). I felt like I was dancing on a food poisoning tight rope but it was surprisingly tasty and much better than the cold variety. I also didn't experience any nasty surprises later in the night. Win!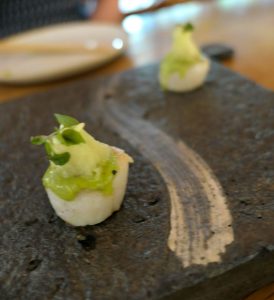 The last few dishes were a safer food option for people who don't like raw seafood, with wagyu gyoza, a medium rare scotch fillet served and an heirloom tomato salad. By this point we were on second cocktails, which were very good indeed.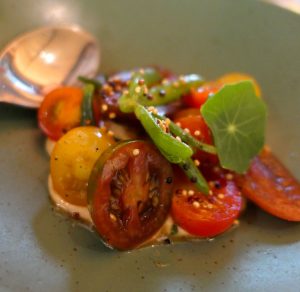 This was all capped off by a sublime dessert; toasted sesame ice cream w caramelised almonds,
sticky miso caramel and matcha wafer. I have never been big on Asian desserts but this really was something. The wafers were surprisingly delightfully sweet with the toasted sesame ice cream with ice crystals so small that it tasted like whipped cream. Drool!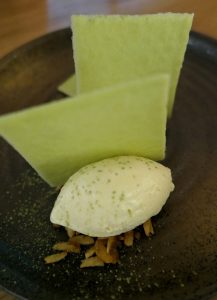 We happily waddled on our way to the Canberra theatre to see some drag queens from Rupaul's drag race. There was a mid-show fire alarm and thunderstorm which resulted in us getting soaked but this was still not as exciting as the amazing meal we had at Raku. I….want……more!