Hello hungry peoples,
This continues my breakfast smoothie journey. As a busy working Mum I don't have time to put pants on and unfortunately they are essential in today's society. One of the things that helps me achieve this major life goal is a liquid breakfast. This breakfast smoothie is inspired by a mango lassi with some oats and wheatgerm to make is vaguely breaksfast-y. Store it in the fridge in individual take-away portions to make your mornings easier. Let's get into it!
Mango Lassi Breakfast Smoothie
Prep time: 5 minutes
Cook time: 0 minutes
Total time: 5 minutes
Yield: 4 smoothies
Calories per serving: 
Ingredients
2 cups frozen diced mango

2 cups milk
1 cup natural Greek yoghurt
1/2 cup oats
1/4 cup honey
2 tbsp wheatgerm
Tools: Blender
Cooking Directions
Combine the 2 cups frozen diced mangoes , 2 cups milk, 1 cup natural Greek yoghurt, 1/2 cup oats, 1/4 cup honey and 2 tbsp of wheatgerm.
Blend it. That's it, you're done!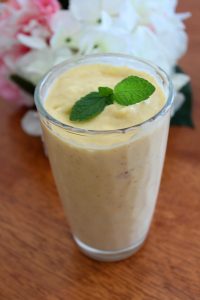 Difficulty: Easy peasy