Hello hungry peoples,
I have always been a fan of a chowder, although I must admit I have always been a bit scared of the seafood variety. After spending a fortune making it how long will it last? Can you reheat it, or am I risking some very bad times?? As such I am obsessed with this soup. It is perfect chowder goodness in a bowl but super cheap and super easy to make, without the threat of death by food poisoning. It is also the perfect emergency meal as it only requires some potatoes, some canned corn and some bacon. Let's get into it!
Corn and Bacon Chowder
Prep time: 10 minutes
Cook time: 25 minutes
Total time: 35 minutes
Yield: Serves 4
Calories per serving: 950
Ingredients
4 rashers bacon

4 cups chicken stock

2 cups milk
1 onion

1 x 420 g can creamed corn

1 x 400 g can corn kernels
4 potatoes

2 tbsp fresh parsley

50 g butter
 Cooking Directions
Dice the bacon, and onions and fry until browned on a medium heat in a large soup pot.
Peel and dice the potatoes. Add them to the pot with the chicken stock and cook for about 10 minutes until the potatoes are soft.
Add the 2 cups of milk and the corn and cook for about 10 more minutes.
Use a stick blender to mush it up a bit. Stir through the parsley and serve! That's it, you're done!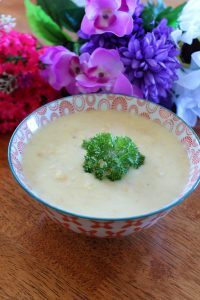 Difficulty: Easy peasy