Hello hungry peoples,
I am obsessed with salted caramel popcorn. I recently went to an outdoor cinema with the kids and made the mistake of buying a giant bag of salted caramel popcorn. The plan was we would share it but I discovered I have no self control and ate most of it. I woke up at 2 am thinking I was dying as my body rejected my ill treatment of it. I have now recovered somewhat and because I don't learn from my mistakes I decided that I would try making my own. I was delighted to discover it is super dooper easy and much more delicious when it is not stale and sealed in a bag. I espouse the popcorn maker method. Come on people….you can buy them for $10 and they are worth every cent. Just a heads up, this makes a ridiculous amount of popcorn. If you are a normal person you may want to half everything. Let's get into it!
Salted Caramel Popcorn
Prep time: 5 minutes
Cook time: 10 minutes
Total time: 15 minutes
Yield:  8 serves
Calories per serving: 316
Ingredients
1 cup popcorn kernels
1 cup salted butter
1 cup brown sugar
1 tbsp salt
1 tsp vanilla
1 tsp baking soda
Cooking Directions
First we make the caramel. Combine 1 cup of butter, 1 cup brown sugar, 1 tbsp salt and 1 tsp of vanilla in a saucepan over medium heat. Use a whisk to quickly merge everything together once the butter has melted. You can tell when it is ready as it will thicken up and become completely mixed,
Once everything has melted together add the tsp of baking soda. This makes the caramel bubble and a bit lighter so it coats the popcorn better.
Cook the popcorn in batches. Combine into a large bowl and pour the caramel all over. It is delicious warm but very messy to eat. That's it, you're done!
p.s. The popcorn will keep for a couple days, if you are not me and don't eat it all at once. Good luck with that!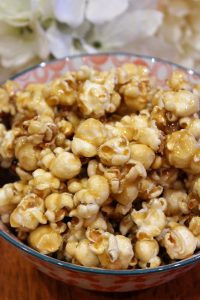 Difficulty: Easy peasy