Hello hungry peoples,
I have reached an age where certain things are non-negotiable – have I slept for 8 hours, have I done some exercise, have I had a serve of fruit between each meal, have I eaten any nuts, have I had yoghurt today…….the list goes on and on and it is exhausting even writing it. Of course if I don't follow through my body falls apart and I become a non-functioning blob.
My favourite thing about bircher muesli is the convenience. It is the ultimate cheat as it contains all the good stuff with minimal effort and gets your day started on a good path. You can just make a batch at the start of the week and you are set. It also a pretty flexible. Any liquid will do, I have even made it with a batch of leftover chai tea.
My base recipe is pretty traditional, although I do like to add more wet ingredients than usual as it makes the muesli creamier. I also like to add heaps of different nuts as I think it does amazing things to the texture and the flavour. If you have any extra fruit feel free to throw it in. There are no rules….make it your own. Let's get into it!
Perfect Bircher Muesli
Prep time: 10 minutes
Cook time: 0 minutes
Total time: 10 minutes
Yield: 7 serves
Calories per serving: 219

Ingredients
1 cup 

oats

1 cup yoghurt

1 cup

apple juice

2 apples

1/2 cup pecans

1/2 cup cashews

1/2 cup macadamias
Optional: Maple syrup
Cooking Directions
Combine the 1 cup of oats with 1 cup of yoghurt and 1 cup of apple juice.
Mix in the 1/2 cup of pecans, 1/2 cup cashews and 1/2 cup macadamias.
Grate the two apples and add to the mixture.
Now you just have to let everything sit in the fridge overnight, ready for breakfast tomorrow. That's it, you're done!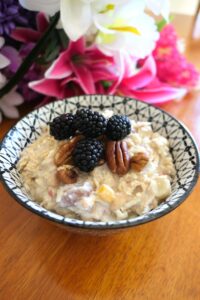 Difficulty: easy peasy