Hello hungry peoples,
I love a good curry but my lack of a tandoor makes my side dishes pretty sad. This dish is the perfect one pan solution. They are crispy, spicy and contain enough vegetables to hide a multitude of sins. You can also replace the butter with ghee for an even more authentic experience. Let's get into it!
Bombay Potatoes
Prep time: 5 min
Cook time: 30 minutes
Total time: 35 minutes
Yield: 4 side serves
Calories per serving: 645
Ingredients
4 large potatoes

1 cup frozen mixed vegetables

1/2 cup butter

1/2 cup olive oil
1/4 cup mustard seeds
1 tsp turmeric
1/2 tsp chili
2 tbsp salt
Cooking Directions
Parboil the potatoes, chopped into chunks, in salted water. Drain.
Put the olive oil and butter in a frypan on a medium heat and fry the potatoes until golden. Be generous with the butter as it makes it delicious!
While the potatoes are cooking add the 1 tsp turmeric and 1/2 tsp of chili.
Once the potatoes are looking pretty cooked, add the mustard seeds and mixed vegetables. Season as needed.
Serve with something spicy (I like it with tandoori chicken). That's it, you're done!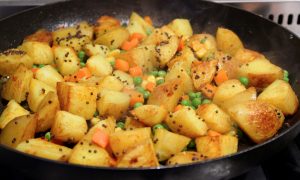 Difficulty: Easy peasy