Hello hungry peoples,
Today we are making a delicious variation on my Grandma's pancake recipe. It is very sentimental as it was one of the first recipes I learnt make. We moved in with my Grandma when I was a kid and the first consequence was we all got a bit fat…..ok I lie, we all got A LOT fat. My grandparents lived on a sheep station and that was very much reflected in the way my grandma would cook. We had entire sheep in our freezer. You eat a lot of meat when you have that kind of challenge before you. I am pretty sure my Grandpa had brains for breakfast once. This was a man who once spat out a cooked oyster because he thought it was brains and was terribly disappointed. He wasn't a huge fan of the eyeballs but he wouldn't say no to them either. Anyway I am digressing down a slightly gross path. My point is they were both pretty kick arse and I miss them terribly.
When we were not filling our arteries with various meats my Grandma would make these pancakes fried in ridiculous amounts of butter. Sometimes if we begged enough she would make these for afternoon tea as well. This is such an easy and simple recipe any novice can do it. It is also great for kids as there is plenty of throwing things in a bowl, cracking eggs and mixing to keep them entertained. I do have to watch out for my daughter trying to eat all of the vanilla paste. What can I say, I have a strange child. You can make a variety of toppings for the pancakes but one of my favourites is caramelised apples with maple pecans. I have been making these for so long that my kids assume this is how you always have pancakes. Secret ingredient, maple syrup on all the things!
Apple Perfect Pancakes
Prep time: 10 minutes
Cook time: 20 minutes
Total time: 30 minutes
Yield: 4 serves
Calories per serving: 363
Ingredients
1 cup plain flour
1 1/2 cups buttermilk (or 1 1/2 cups milk plus 1 1/2 tbsp lemon juice)
1 egg
1 tsp salt
1 tsp cinnamon
2 apples
2 tbsp maple syrup
1/4 cup pecans
2 tbsp butter

Cooking Directions
I'll run you through the basic recipe first: Combine the 1 cup flour, 1 1/2 cup of buttermilk, 1 egg and 1 tsp salt using a whisk so there are no chunks of flour. This is the basic pancake batter. If you prefer fluffy American style pancakes just swap the plain flour for self-raising flour.
Now to add the apple pie goodness. Add the cinnamon and vanilla to the pancake batter. Peel the apples and cut into chunks. Caramelise the apples in a tbsp butter and a drizzle of maple syrup (fry those suckers). They should soften and get slightly golden. Put these aside for now.
In a fry pan toast the pecans with a couple drizzles of maple syrup on a medium heat. Remove them from the pan and roughly chop. Put a tbsp of butter in the hot pan. Add pancake batter (about 1/2 cup for a large pancake). Pour it into the middle of the pan. Pick the pan up and gently tilt to spread the batter around.
Cook the pancake until it looks almost cook through and golden on the bottom. Using an egg flip turn the pancake over and brown the other side. Slip the cooked pancake onto a plate. Fill with pecans, apple and drizzle with maple syrup. Roll the pancake up. If you like a creamy filling you can also fill the pancake with some ricotta or cream cheese. I usually get 4 large pancakes from this mix. You can place them in a low heat oven to keep them warm as you cook the rest.
That's it. Enjoy!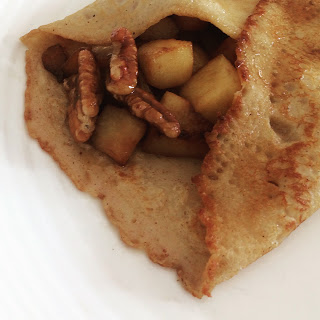 Apple perfect pancake
Difficulty: Easy peasy