Hello hungry peoples,
Today we are visiting the Kingston Foreshore. For those not local, the Kingston Foreshore is probably one of the trendiest, most expensive areas of Canberra. It is located next to the lake but has taken awhile to take off as it is located in what was back in ye olden times an industrial area. This is still evident in some of the warehouse buildings and brick works. Of course this is like catnip to hipsters and much like many of Melbourne's industrial areas, is now filled with hideously expensive apartments, as well as overpriced coffee distributors. To be honest it is like catnip to me too. I love refurbished old buildings and good coffee. God I love coffee. I am not good enough at growing a beard though to be a hipster.
The Kingston Foreshore is really buzzing now, developing at a ridiculous pace. Every time I go there there are more new cafes and restaurants and all I can think is "but I haven't tried out all the other places yet". The end result is I get overwhelmed and my brain implodes. So today's pick is a bit random. I did no research and had no expectations.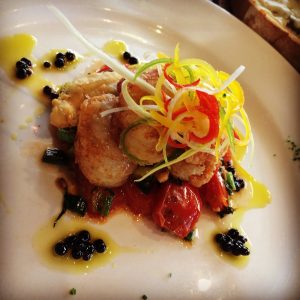 I met with the lovely Aleks and her beautiful bub Harry for lunch. Yes, he is named after Harry Potter. So awesome! Since we had bub and pram in tow one of our only criteria was somewhere that looked kinda kid friendly. It was also a beautiful day so somewhere open was a preference. "La Rustica by the Lake" fit the bill nicely. This is a big Italian restaurant/bar  that opens out onto the foreshore terrace. The fit out is lovely dark, warm wood tones and has a genuine Italian feel to it. I love a good wrought iron chandelier when used appropriately. Apparently the owners are from southern Italy so I guess the place is legit. There is heaps of seating so I doubt you would need to book to get in, we certainly didn't. The staff placed us quickly at a lovely table centrally in the restaurant. No sitting next to the toilets today thank you! This is especially risky with a pram as they like to keep you out of the way. They were also really quick with menus and service in general which was great because, as always, I was staaaaaarving.
The menu was extensive, maybe even a bit too much. As much as I appreciate choice, I do like a concise well thought out menu. You are less likely to experience that gnawing doubt that you ordered the wrong thing. Plus it is really hard to gauge what will be amazeballs. I persisted through the anxiety and ended up having the entree scallops as a main. I have a suspicion that I was given an entree as it seemed kinda small, with only two scallops lightly breaded on a tomato balsamic salad. The scallops were complete, roe and all, which I am not a huge fan of. I am sure many people would disagree with this. I ended up eating it because there wasn't much else on the plate. The scallops were perfectly cooked though and not at all slimy, which is always a good thing. I think what held it back from being mind blowing may have been the freshness of the scallops, as they didn't seem to have that nice bouncy texture you get with great scallops. To be expected I guess when you are three hours from the coast.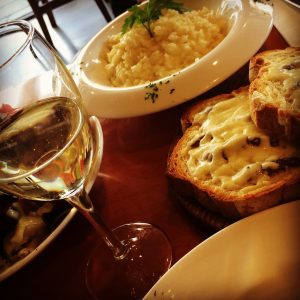 I also tried the anchovy mozzarella bread. I am a bit on the fence about anchovy. I can appreciate the lovely saltiness they add to dishes but don't go out of my way to eat one by itself. The sourdough and the melted mozzarella were very tasty. At first I thought I had made an ordering mistake as the anchovys were really strong, but the more I ate the more more-ish they became. In the end I ate the lot and really enjoyed it. We also got the "Verdura" grilled vegetable salad on the side. This was nice enough, although I thought it was a bit overdressed, and the artichokes seemed like they had come out of a jar. Lastly I washed everything down with a glass of the house Pinot Gris, which was lovely and went really well with everything.
Overall I thought La Rustica was perfectly charming. Nice location, nice staff, nice food but much like a good dependable friend-zoned man, did not have the passion or charms to woo me away from the Italian restaurant that currently has my heart. Provini, you know I am looking at you.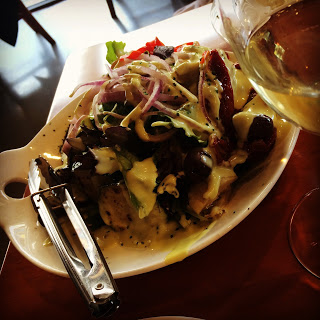 p.s. I should mention La Rustica was very reasonably priced. Two mains, a large salad, drinks (including wine) and an entree for $75 makes me very happy to go back there.
p.p.s Be warned. They have recently installed paid parking everywhere.