Hello hungry peoples,
Canberra is a city filled with Indian restaurants. I think this is a very good and tasty thing. There are some real standouts across the city. The first time I had Indian was at the Tandoor Restaurant on Chandler St in Belconnen. It was walking distance from my first apartment in a very dingy part of Emu Ridge. I usually had to walk past burning bins to get to the restaurant but it was worth the danger and a great introduction to Indian food. It been a few years since I have been back there. I miss the restaurant…….not so much the dingy apartment. One of my recent favorites is Blu Ginger in Civic. The restaurant is beautiful and elegant and the food very much reflects this. They obviously spend a lot of time working on their spices and developing their flavors. Their curries taste really complex. Total flavor explosion! Since it is such a nice restaurant hubby and I usually sneak there when we have a kid free night. Sadly I have not yet been able to convince the kids to like Indian food.
I would feel irresponsible discussing Indian restaurants and not mentioning Ramas Fijian Indian restaurant in Pearce Shopping Center (plus I am pretty sure some of my friends would disown me…..they rave about it). This place is iconic in Canberra, making us northerners drive a long way to get our curry fill. They don't do naan bread though which makes me sad. How am I going to make it down there without some carbs at the end??
One of my current Indian picks would be Flavours of India in Gungahlin. They have consistently good food but have a few limitations. Firstly the home delivery seems to come and go. When it is available it usually takes about an hour to deliver. They also don't make filled breads (naan, roti etc.) or tandoori chicken. I find with kids tandoori chicken and pappadums are great for something they can eat that isn't too spicey ("Spikey" as my kids say). Mirchi Indian Cuisine in Ngunnawal is my other go to. They do make filled breads, as well as tandoori chicken, and have really great curry. No home delivery though. These two restaurants are also the closest to my house. You can see how my priorities work.
Anyway, this is not meant to be a concise bible of indian food in Canberra. It is to discuss a relative newcomer, "Garnish of India" in Gungahlin shopping center. Firstly they home deliver, which straight away appeals to my lazy heart. Secondly they deliver within half an hour. Another huge tick from me. Next the food…I really don't know how to start other than  to say it is really really good. These guys know how to build complexity into their dishes. It reminds me a lot of Blu Ginger in Civic in that the curries have a real depth of flavour. The other thing is that they tend towards spicy. There is a definite bite and heat to the dishes but just enough to make them interesting rather than uncomfortable. If you're not big on spice, I think you would still be ok here. After two pregnancies with severe heartburn I have lost all tolerance for chili, and while I do break a bit of a sweat eating here, it is still enjoyable.
The menu tends towards the traditional, as most Indian restaurants do. You will find your saags, rogangoshes, tandori, vindaloos etc. but there are also a few unusual things. They have an extensive naan, paratha and roti menu. Bread stuffed with things…..who wouldn't want this? I have never brought myself to try the ones with stuffed fruit but I can report back that the others are delicious. Hubby especially liked the one stuffed with mince meat. They have goat curries which I am partial to, and an indian roast lamb which I am very keen to try. I also want to try the crab roast but it hasn't been available when I have gone there. They do have tandoori chicken for the kids but they go one step further, they have a kids menu. I have never seen this before at an Indian restaurant and I love it. They even have battered fish for the fussy eater. So to sum up, this place is super convenient, has great food and will allow us to get Indian much more often WITH the kids. I think I'm in love.
It is impossible to take a pretty curry picture. This was the best I could do. Trust me, it was delicious.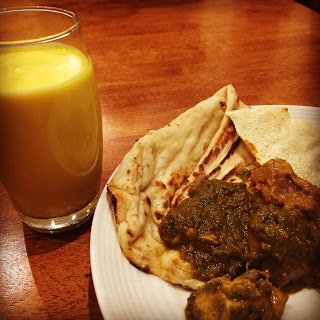 p.s. Tandoori chicken is actually super easy to make at home and has really been my only success with making Indian food. It is on my list of recipes to put up here. Coming soon, I promise!