Hello hungry peoples,
My love affair with lasagna has been life long. I feel like such a dag confessing this but I loved Garfield as a kid and really this was my introduction to lasagna. Out on the sheep station we thought spaghetti bolognaise was fancy foreign food. Super fancy if we put some grated cheddar on top. There was certainly not a lasagna in sight but I was obsessed. In sheer desperation I made myself one. As a kid this seemed like the most laborious process ever. I had to use the recipe on the back of the lasagna sheet box because I didn't have anything else. At the end of it I finally had my first bite and I was hooked. Garfield was right dammit!
I have tried everything to work towards the perfect lasagna and I think this is pretty darn close. In fact I have run out of ideas so this may be it. The key is big chunks of bacon in the bolognaise and a super rich white sauce (bechamel). I also use the bechamel to create a single layer on top, rather than inter-layering it. This started because my hubby hated those cheesy layers but he may have something there. I love having the big thick creamy section on top to contrast with the pasta and meaty layers.

Lasagne
Prep time: 20 minutes
Cook time: 40 minutes
Total time: 60 minutes
Yield: 6 serves
Calories per serving: 748
Ingredients
Meat Sauce
500 g pork and veal mince
700 g passata
100 g speck
1 onion
2 sticks celery
2 celery
2 cloves garlic
1/4 cup wine
1 tbsp thyme
1 tbsp oregano
1 bayleaf
Super Rich Bechamel
400 ml cream
400 ml milk
150g parmesan
100g butter
1/2 cup plain flour
1 egg
200g fresh lasagne pasta sheets
Cooking Directions
Preheat your oven to 180 degrees C.
First you need to make your bolognaise. Finely dice your onion, garlic, carrot and celery.
Cut your speck up into large chunks. Speck is essentially uncut bacon. Yes….you heard right, bacon that you can cut as thick as you like. I am understandably fond of it.
Fry your speck, onions and garlic in a large pot until the onions start to go translucent.
Add your carrots and celery and fry until they have caramelised.
Deglaze the pan with the 1/4 cup of wine. White…red….either will do.
Add your pork and veal mince, the jar of passata, the bay leaf, the tbsp of oregano, the tbsp of thyme and season well with salt and pepper.
Give everything a good mix and bring it to boil and then reduce to a simmer. Leave for 30 minutes with the lid on the pot.
While the bolognaise is cooking you can make your bechamel. Melt you butter in a pot and let it get hot and bubbly.
Add your 1/2 cup plain flour and stir with a whisk to make a paste.
Add your 400 ml of milk and 400 ml of cream and give everything a good stir.
Cook on a medium heat, stirring often, until the sauce thickens up.
Take your pot off the heat. Quickly whisk one egg into the mix and 100g of parmesan. Your bechamel is now ready to go.
Now to construction. I like to use fresh lasagne sheets as the dried ones very rarely get comprehensively cooked and soft. Get a large casserole dish and place a base layer of pasta.
Top with a thin layer of bolognaise and then repeat until you run out of sauce.
Pour your bechamel on top, covering everything. Finish it off with the remaining parmesan.
Bake in the hot oven for 25 minutes, essentially once the cheese has gone melted and golden.
Serve with a green salad. That's it, your done!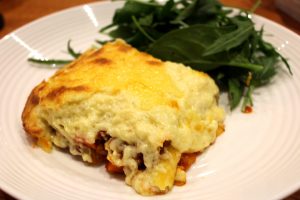 p.s. You can find my bolognaise recipe here.
Difficulty: Medium