Hello hungry peoples,
I feel I have been remiss. I have been holding out on you and not treating you like the delicate precious flower you are. One of my first posts was about southern fried chicken and I mentioned in passing that sweet potato biscuits are the go for an accompaniment. Then there was nothing but silence on this topic for weeks on end as I, through shear lazyness, did not share with you the joy that is a sweet potato biscuit. Today I make good on my promise.
Biscuits are unfamiliar in Australia, unless you are talking about sweet biscuits with chocolate chips, jam, jam dipped in chocolate chips etc.. In America they are definitely a *thing* that people obsess about. Obsessed with food…those crazy Americans! I don't relate at all.  They are essentially a savoury scone, common in the American South, typically used for soaking up butter/sauce or gravy. They are also eaten for breakfast with jam or stuffed with yummy things like bacon and eggs. I tend to make them to go with either ribs or southern fried chicken. The sweet potato makes the scone moist and adds an amazing flavour. Surely it also counts as a vegetable side right??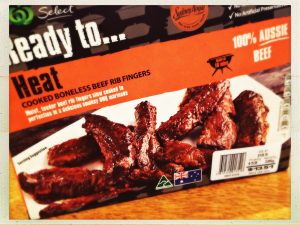 Today I am going to serve the biscuits with ribs. I am feeling lazy so while I will make the biscuits from scratch I am going to totally cheat with the ribs. These ribs are available from Woolworths.
They are boneless, which equals around 800 grams of pure meat, and are a bargain at $14. Plus they are already seasoned and slow cooked. You can also get slow cooked boneless ribs at Costco, which are fabulous, but I am not allowed to go to Costco. I once spent $400 there and bought no food. I think the ones from Coles are pretty good but they have bones so you get less meat and more hassles with eating them. Sometimes I make my ribs from scratch but when I want a quick mid-week meal these pre-cooked ribs are one of my go tos. Follow the instructions on the packet and while the ribs are cooking get your biscuits sorted out.
Sweet Potato Biscuits
Prep time: 15 minutes
Cook time: 15 minutes
Total time: 30 minutes
Yield: 9 biscuits
Calories per serving: 209
Ingredients
1 1/2 cups mashed sweet potato
125g cold butter (1/2 block)
3 cups self-raising flour
2/3 cup milk
Pinchsalt
Cooking Directions
Originally this recipe came from Paula Deen. Don't worry you can't taste the racism, plus I have made some tweaks that I think improve it. That's just how I do. At least you know they started off being somewhat authentic. One of the major changes I made was to use self-raising flour. The danger with scones is always having them not puff up and being too dense. Using the self-raising flour makes it much easier to make beautiful fluffy biscuits.
Peel and chop the sweet potatoes into large chunks. We want the potato to cook but to not get too watery. Cook the sweet potato in a pot of boiling water until it will mash easily.
Put the 3 cups of self-raising flour into a bowl.
You now want to integrate the butter. Usually you would cut the butter into chunks and then laboriously use a pastry butter or your hands to mix it in. I have found a better way. Get you cold 1/2 block of butter and coarsely grate it. Even cold butter is pretty soft and it will grate really easily. Then just mix the grated butter into your flour.
Add the mashed potato and the 2/3 cup milk to make the dough wet and help it come together.
Put the mixture onto a floured board and using a folding motion bring the dough together. Don't knead as you don't want to develop the gluten and make the dough tough.
Pat the dough down to a 1 inch thickness and then use a round cutter to cut the biscuits out of the dough.
Place them on a baking tray lined with baking paper next to each other (this helps them puff up). They are now ready to go into the oven.
Take the ribs out of the oven. Leave them in the foil to keep them hot. Turn the oven up to 220 degrees C.
Cook the biscuits for 12-15 minutes. They should be golden and puffed up.
That's it, everything is done. The biscuits will taste better with lots of butter slathered on top. I like to serve everything with a green salad, so I can pretend that I am healthy. Enjoy!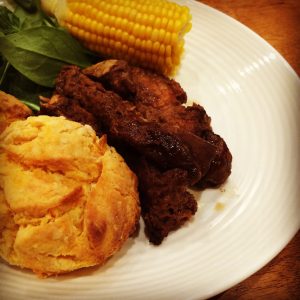 Difficulty: Medium