Hello hungry peoples,
Today's food adventure contains a significant liquid component. I don't get out to bars much because I am old and tired but today we are going to discuss one of the best bars in Canberra, a little known gem called Molly. It actually feels wrong to discuss this place as the basic premise is that the bar is secretive, inspired by the speakeasy of the prohibition era. It is so awesome though that it warrants discussion.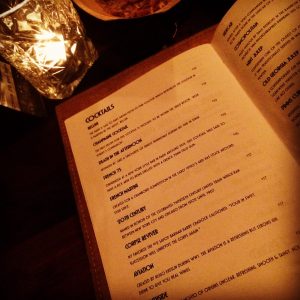 Molly is located in a little alleyway off London Circuit. There is a fairly grimy unmarked door, from which you descend into a den that looks straight out of a 1920's movie. It is a pretty small space, with lots of dark wood, shiny bottles and mosaic tiling. I was first introduced to this place by the lovely Trish, a petite elegant woman who also knows her hard liquor. That's what happens when you spend time in Eastern Europe. She is a true whiskey connoisseur and Molly is a whiskey bar with an extensive whiskey menu. I had my first and only sip of whiskey here. Tasted like lighter fluid. Thankfully there are also a range of cocktails available that range from classic to fanciful. The lovely thing about Molly is that it does seem to cater to an older crowd. Usually going to a bar just makes me feel old but here everything was just chilled and relaxed. Instead of a meat market you get groups of friends, who have usually dressed for the occasion, just chatting and catching up.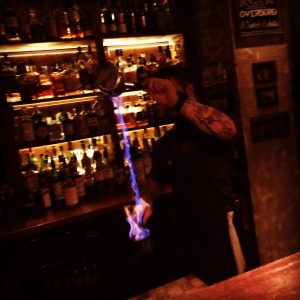 My most recent adventure to the bar was for a birthday celebration for the lovely Kath. We kicked things off with a few drinks. Upon my arrival everyone was emphatic that I had to try to cognac blazer. I have to admit I am more of a "white wine from New Zealand thanks" kinda girl but it seemed like the venue to try something a bit more exciting. The Cognac Blazer is a piece of theatre. Your drink is set on fire multiple times and thrown and spun around the room. Don't worry…it was still strong as heck afterwards. The bartender heated my glass up, cooked the liquor in a little pot, set it on fire and poured it back and forth between a glass and the little pot, making trails of blue flame. So pretty. They then slice a bit of orange, set it on fire, rub it on your glass and then throw it in. It was totally worth the price just for the show. I have never had cognac before and this definitely had a kick.  I imagine it is what good cognac tastes like but not my cup of tea. I don't like drinks where I have to close my eyes to drink them so the alcohol fumes don't dry out my eye balls. Brandy belongs in custard.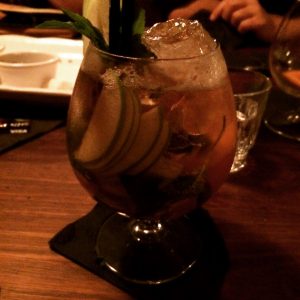 Since I had to drive I only had one more drink choice. I went with the infamous Pim's Cup. I have never had one before but it looked much more like my thing. Heaps of sliced fruit and mint, with a couple of straws in it. An umbrella or pineapple would not have looked out of place. I am pretty sure I had the gin version, which is mixed with lemonade and fruit. It tasted like there was no alcohol whatsoever which I find delicious. That was the extent of my drinking because I am a responsible adult (e.g. boring) but other guests tried some of the other cocktails and everyone seemed pretty happy with the result. Ok, so that's done now, lets move onto the food.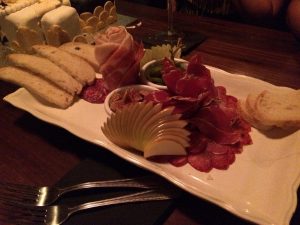 My favourite corner of the bar is filled with hanging meats and a large chopping board. A dude lives there in an apron just chopping the stuff up. I would like this job but no-one else would get any food. I would just sit in the corner going "nom nom nom". The menu at the bar is limited. You can have meats or cheeses, sometimes together, with bread and crackers. Also some weird pickled things, caperberries maybe? This doesn't sound like much but it was some of the best bar food I have ever had.
On the platters I picked out salami, chorizo, prosciuttio and some fancy ham (serrano maybe). The cheeses ranged from blues, to bries, to persian fettas, to hard cheddars. All the cheese really. Everything was amazing. I need to find out who is providing them with these delicacy's so I can go to their shop and buy all the things.
This was all finished off with a birthday cake. My friend Aleks outdid herself with an awesome tiered art deco cake. It could not have been in more suitable surroundings. The fact that she created this piece of art while looking after a baby and a toddler makes me in awe of her baking prowess. Freakin amazing!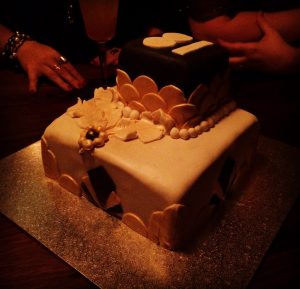 To sum up Molly is a fabulous venue for a drink and a snack while surrounded by beautiful fancy people in a beautiful fancy venue. If you ever wanted to pretend to be Ernest Hemingway, this is the place to do it. I hope it strikes the balance between being popular enough to keep going but not so popular that it gets ruined. So you should go there….or maybe not. So conflicted!
p.s. There was one thing that marred the night. Instead of some 1920's style music they played the one rockabilly music CD ALL NIGHT LONG. They also played it too loud so that it was a yelling match to talk to anyone. Dude….you are not a nightclub. I understand that you are trying to create some energy on a Saturday night but the place was already packed. You should relax and kick back to some Edith Piaf. Everyone loves that stuff.
p.p.s The owners also run a joint called the Highball Express Bar, which is another hidden venue but focuses on rum rather than whiskey. It has a cuban theme, with palm trees and bright colours. Definitely worth the visit just to see it. No meat and cheese corner though, which makes me a little sad.